EXHIBITION OF MEXICAN CONTEMPORARY ARTIST OPENS IN TURNER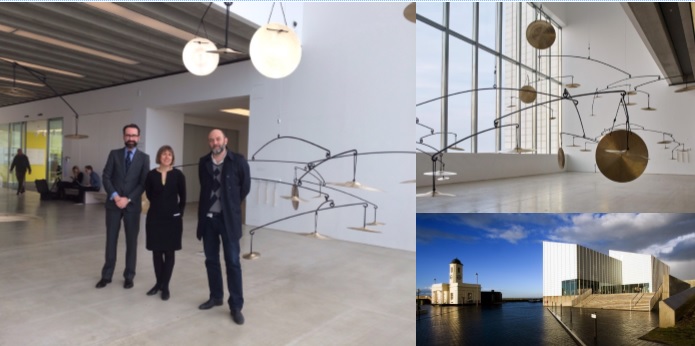 KENT, United Kingdom., 19th march 2015.- The Ambassador of Mexico to the UK, Diego Gomez-Pickering, inaugurated the exhibition of the Mexican sculptor Carlos Amorales in Sunley Gallery of the Turner Contemporary Museum.
In the framework of the Year of Mexico in the UK, the exhibition, open to general admission until 6th September 2015, allows visitors to touch (30) cymbals suspended in the air at a double height space overlooking the North Sea., where Amorales intended to convey the result of the combination between silence, harmony, chaos and noise.
As well as mobile sculpture with large scale, entitled: We Will See How Everything Reverberates the artist examines Mexican contemporary culture and values ​​through his work in the areas of film, video, painting, sculpture, performance and drawing.
His earlier works were based on his search for identity and often used the idea of the mask. In 2003 his famous series of performances by masked Mexican wrestlers, Amorales vs Amorales (Challenge 203) was performed at Tate Modern, the Pompidou Centre and the San Francisco Museum of Modern Art.
--oo00oo--