PEN INTERNATIONAL OPENS ITS NEW OFFICE IN LONDON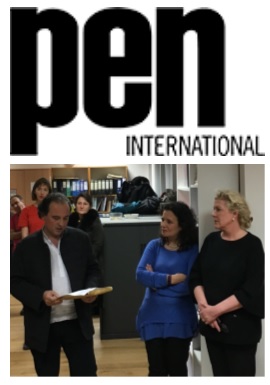 LONDON, United Kingdom, 20th January 2016.- With the participation of the Embassy of Mexico in the United Kingdom, the organisation of Poets, Essayists, Novelists (PEN International) opened its new office in this capital city.
In the event, the international writers' association which defends human rights, presided by Mexican Jennifer Clement –who was President of PEN Mexico from 2009 to 2012- renewed its compromise with freedom of expression and literature as unbreakable elements.
Along with journalists and representatives of some national chapters of PEN and civil society, were present the Catalan writer Carles Torner, Executive Director of PEN, and Cristina Fuentes, director of Hay Festival Americas, with which PEN will share office.
PEN -whose name is also synonym of the most basic writing instrument- is an international organisation that brings together more than 25,000 writers, journalists and playwrights, founded in 1921 by the British poet Dawson-Scott. Despite is based in London, the organisation has a decentralised structure with 149 national and regional chapters in more than 100 countries.
During its last congress in Quebec, Canada, in October 2015, the Assembly of Delegates elected Jennifer Clement as President of PEN International, becoming the first woman to be elected to the post, although not the first Mexican, since writer Homero Aridjis held the same position from 1997 to 2003.
PEN presidents –Arthur Miller and Mario Vargas Llosa among them- also promote ties of friendship and cooperation between writers in the world and still is inclusive with journalists, historians, and nowadays with bloggers and tweeters.
--oo000oo--