CARLOS FUENTES HONOURED IN THE UNITED KINGDOM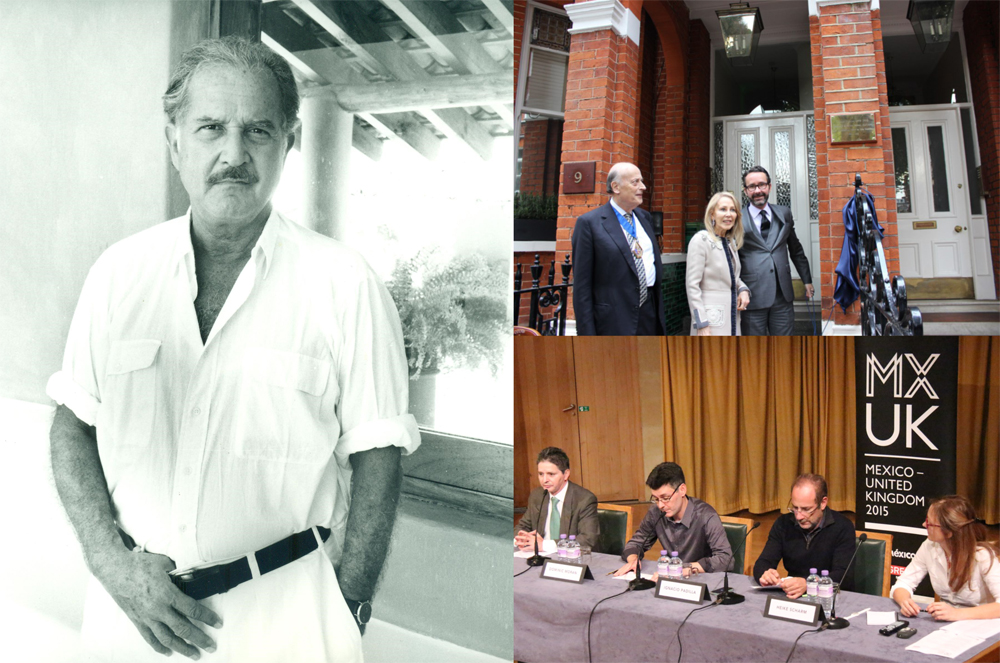 CAMBRIDGE, United Kingdom, 16th October 2015.- In order to honour and pay tribute to the literary work of the prolific Mexican writer, diplomat and intellectual, Carlos Fuentes, a seminar was celebrated in this city and a commemorative plaque was unveiled at the residence where he lived in London.
The seminar was opened by Prof. Steven Boldy, Director of Emmanuel College at the University of Cambridge, accompanied by Silvia Lemus, Fuentes widow, and the Ambassador of Mexico in the UK, Diego Gomez-Pickering. In the same event a group of academics, writers, British and Mexican intellectuals analysed the influence of the academic life and literary work of the Mexican writer.
On 9th October the group was divided in three roundtables where it was analysed how the British experience had an impact on Fuentes' literary career, as well as the academic, professional and social bonds he developed during his time in the United Kingdom, where he lived from 1990 until 2011.
The 8th October, a golden metal plaque was unveiled at the residence where Fuentes lived for more than a decade, located at number 9 on Barkston Gardens street, where he also wrote more than 26 novels, essays and short stories. Friends of the couple Fuentes-Lemus were present, as well as Mayor of Kensington, Robert Freeman and the English writer Hugh Thomas, among many other personalities.
In an emotional ceremony Silvia Lemus, journalist and host of "Tratos y Retratos" program broadcasted for two decades by channel 22 in Mexico, recalled that her husband was lucky to be able to write until the last moments of his life, in 2012.
Lemus also participated in the seminar in Cambridge, where Florence Olivier, Reindert Dhondt, Maarten van Delden and Rafael Rojas participated in the first discussion panel of the "Revolution and Cultural Context." Later Dominic Moran, Rafael Olea, Ignacio Padilla and Heike Scharm exchanged views on the discussion on "Gender and Identity" and finally Erica Segre, Georgina Garcia and Hernan Lara analysed the influence and scope of works like "El Naranjo", "Gringo Viejo" and "Aura".
The seminar ended with a dinner in which links and bonds, experiences and lessons of Fuentes, were informally shared, who was at the time an honorary doctorate at Cambridge.

--oo00oo--