MEXICO PROMOTES ACADEMIC LINKS IN MANCHESTER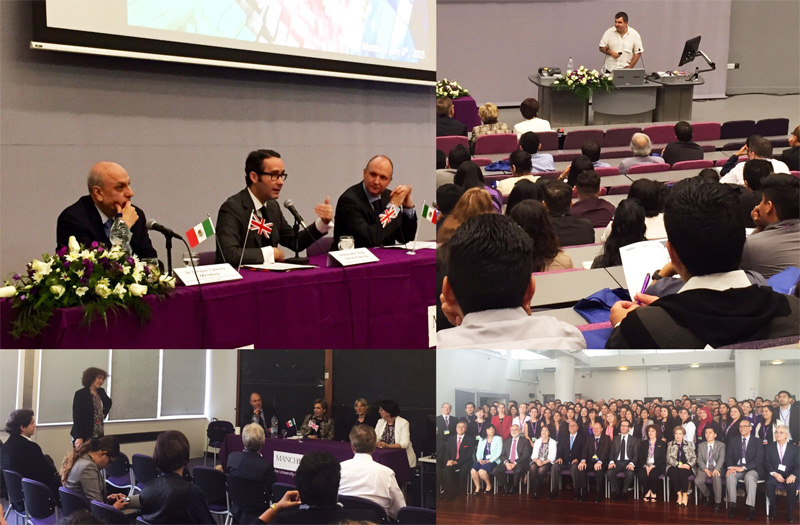 MANCHESTER, England, 8th July 2015.- Mexico participated in the annual international meeting Tiles of Knowledge organised by the University of Manchester, the Mexican National Council for Science and Technology CONACYT and the Mexican Academy of Science carried out on July 6th and 7th , 2015.
The event brought together high-level experts, such as Konstantin Novoselov, Nobel Prize laureate 2010 in Physics, who gave a talk on the various applications of graphene. Participants discussed a wide range of issues such as health, innovation, energy and the role of women in science.
During the seminar, was shared the wide range of opportunities that exists in Mexico and the United Kingdom to carry out joint research projects and academic collaboration as well as to boost mobility in this area. Dr. Teresa Alonso, Mexican academic at the University of Manchester and organiser of the event, highlighted that the talks also worked as a framework for promoting linkages between researchers from both countries and to generate new projects and collaboration agreements.
The seminar was inaugurated by the Ambassador of Mexico Diego Gomez-Pickering; Enrique Cabrero Mendoza, General Director of the Mexican National Council for Science and Technology CONACYT; Colin Bailey, Deputy President and Deputy Vice-Chancellor of The University of Manchester, it also was attended by Jaime Urrutia, President of the Mexican Academy of Science; Martha Navarro, General Director for Science and Technology at the Ministry of Foreign Affairs; Dolores Sanchez, Deputy Director of Postgraduate Scholarships at CONACYT; Julia Tagueña, Deputy Director of Scientific Development; Luis Torreblanca, Deputy Director of Technological Development and Innovation at CONACYT.
It is noteworthy to mention that currently the UK is the number one destination for CONACYT students that are currently studying abroad and particularly the University of Manchester, which is the British academic institution that receives the largest number of Mexican students. The University of Manchester hosted 54 young Mexicans under the Convention "Conacyt-UoMRS Research School", which conduct research short stays, in which they receive English courses and participate in workshops to develop research projects.
--oo00oo--