ENGINEERING ACADEMIES OF MEXICO AND THE UK SIGN AGREEMENT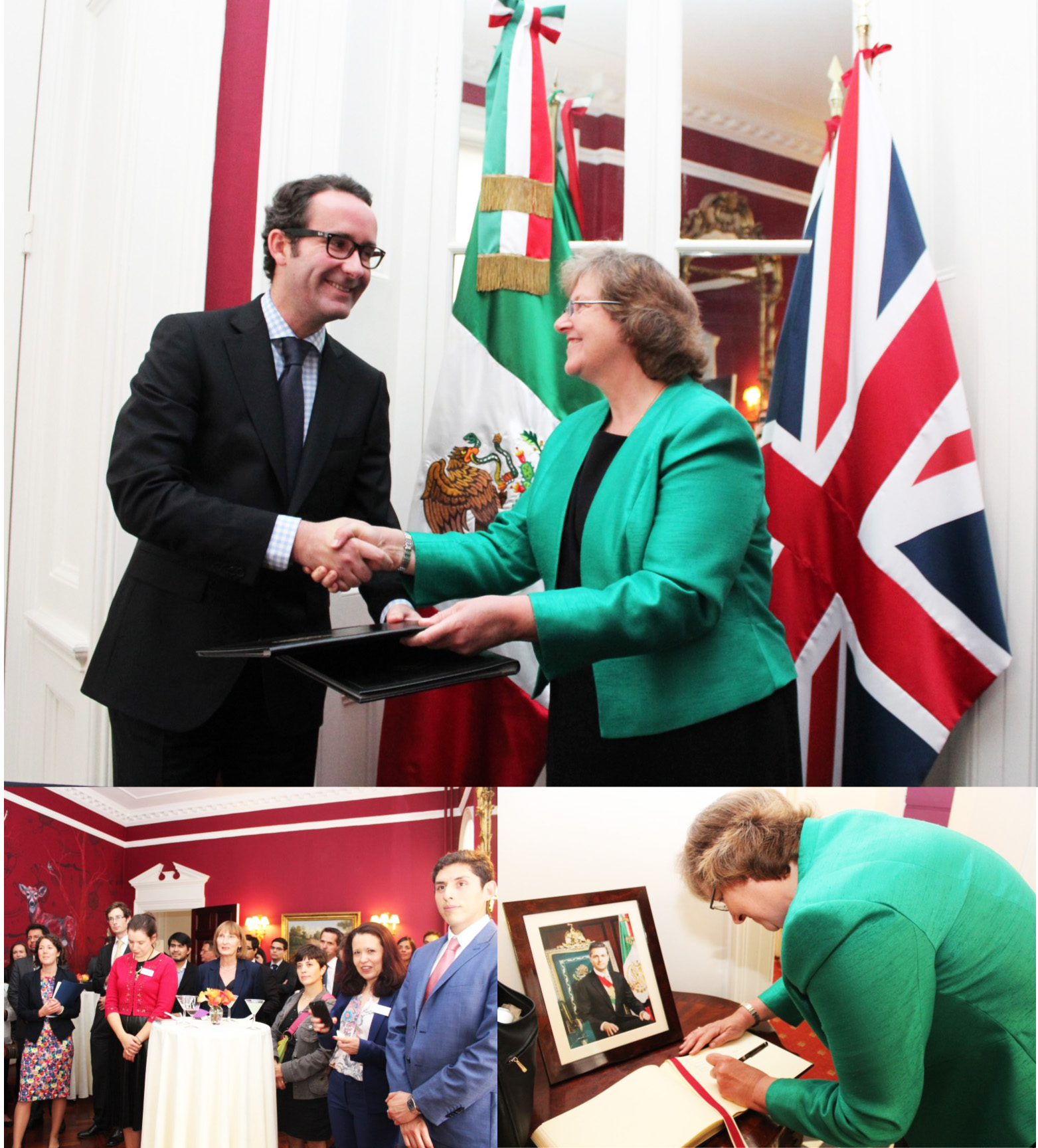 LONDON, United Kingdom, 29th July 2015.- In order to build up academic cooperation between Mexico and the United Kingdom and increase its research and development capacity, the Mexican Academy of Engineering (AI) and the Royal Academy of Engineering, signed a Memorandum of Understanding.
As one of the goals of the academic programme of the Dual Year celebrated between both countries, the instrument will promote mayor cooperation between the two academies and the engineering development, but especially it will boost opportunities among young people to pursue careers in the engineering sector in a broader spectrum, both in the UK and Mexico.
Before special guests, academic, diplomatic and media representatives, all convened at the Official Residence of the Government of Mexico, the Memorandum was signed by Professor Dame Ann Dowling, President of the Royal Academy of Engineering, and as a witness of honour, the Ambassador of Mexico in the United Kingdom, Diego Gomez-Pickering, representing the Mexican Academy of Engineering (AI).
Both recognised that this academic mechanism represents a new opportunity to improve education and to convey new youth generations to the engineering area of the two countries.
The Mexican diplomat pointed that the Dual Year pursuits to create a legacy beyond 2015 and contribute to a long-term relationship between the engineering academies of the two nations. "In Mexico, 110 thousand engineers and technicians graduate each year, surpassing Germany (74 thousand) and doubling Brazil,"
With this agreement both institutions will work together in the improvement of the teaching and researching systems, as well as the institutional strengthening. Besides, Mexico and the UK will celebrate more agreements to consolidate specific actions, such as seminars and workshops development, research residences, joint studies and publications, academic mobility and exchange of information.
In parallel, on 31st July 2015, a similar ceremony will be held at the British Embassy in Mexico, led by the Ambassador, Duncan Taylor, to sign the Memorandum of Understanding between the Royal Academy of Engineering and the Mexican Academy of Engineering (AI), presided by Sergio Alcocer Martinez, who last Monday re-joined his academic activities at the National Autonomous University of Mexico (UNAM), after being responsible for the Undersecretary for North America of the Mexican Ministry of Foreign Affairs, during the current administration.
--oo00oo--