LATIN AMERICAN THEATRE FESTIVAL DEDICATED TO MEXICO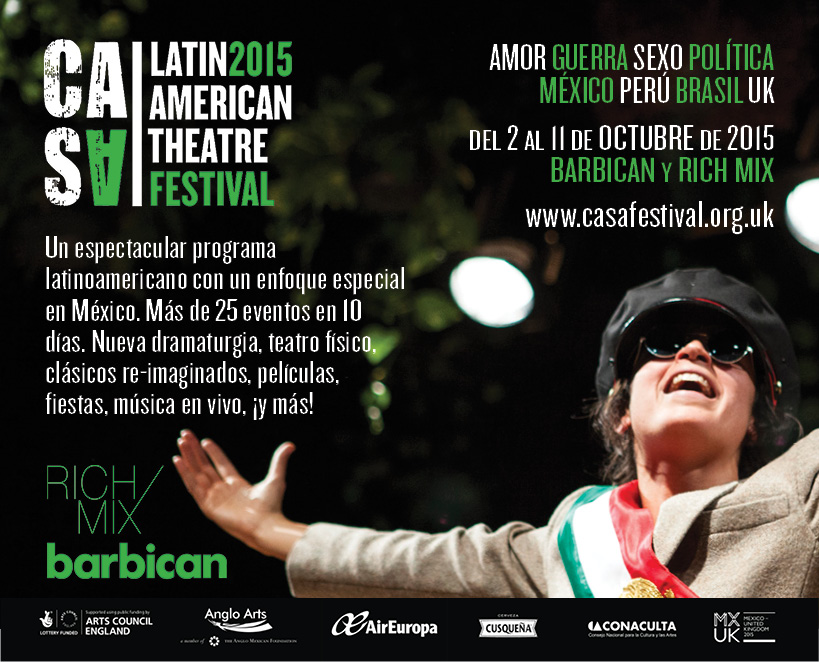 LONDON, United Kingdom, 30th September 2015.- From 2nd to 11th October will take place the Latin American Theatre Festival CASA 2015, at RichMix and the Barbican Centre, which will include live music, debates, documentaries and the opportunity to taste traditional plates from different regions.
With a special focus in Mexico, in the Dual Year celebrated with the United Kingdom in 2015, CASA festival will be opening on 2nd October at RichMix presenting the play entitled 'Montserrat', by Mexican company Lagartijas Tiradas al Sol, which will make its debut in the United Kingdom.
On the 3rd October will be the premiere of Aparte (Apart) by Colectivo Alebrije at RichMix, a young ensemble cast which combines modern and old-fashioned technology with dance and a live soundscape in a unique story of skin, memories, and the damage we do to the ones we love.
From 8th - 10th October, at the same venue, will be the presentation of Misa Fronteriza (Border Mass), a compelling and vitally relevant collaboration between leading Mexican theatre companies Gorguz Teatro and Universiteatro, making their UK debut direct from an acclaimed run at Mexico's National Theatre Festival.
On 9th & 10th, at The Pit, in the Barbican Centre, the audience will have the opportunity to view the play "I'll melt the snow off a volcano with a match" by the Mexican theatre company Lagartijas tiradas al sol, this play is about when fact meets fiction and national stories become personal in this powerful work by Mexico's most politically active artists. And on 6th and 7th October, at this Barbican venue will be the premiere of "The Love of the Fireflies" by Alejandro Ricaño, interpreted by the Mexican company the Guggenheim.
For more information:
http://www.casafestival.org.uk/
http://mexicouk2015.mx/evento/casa-festival-de-teatro-latinoamericano
--oo000oo--