"GRAN SALON MEXICO" CONTEMPORARY ILLUSTRATION'S FAIR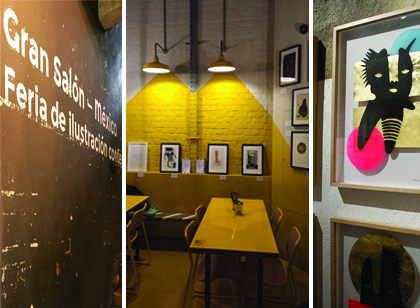 CARDIFF, WALES, 1st December 2015.- The Contemporary Illustration's Fair entitled: "Gran Salon México (GS-M) dedicated to the evolution of Mexican illustration industry starting from just a simple graphic service up to expressive art with great influence of the visual culture.

In the framework of the cultural programme of the Year of Mexico in the United Kingdom, the GS-M fair showcased to the Welsh people the exhibition of multiple images and illustrations –from 18th to 21st November- which demonstrates that Mexican contemporary visual expressions continues to progress as an artistic and creative discipline.

In addition to its annual edition in Mexico City, the international destination of choice of the fair GS-M is the United Kingdom, therefore was also presented in London from 23rd to 27th November in "DF/Mexico Diner" restaurant.

The GS-M show was the ideal way to manage different collaborations with a wide range of illustrators, among whom figured Denise Gutierrez, David "El Dee" Espinosa, Diego Huacuja, Dr. Alderete and Edith Hernandez, among many others.

For more information, please visit the website of the Dual Year 2015 celebrated between Mexico and the United Kingdom of Great Britain and Northern Ireland.
--oo00oo--