EXHIBITION OF "INVISIBLE MEXICO", 1st EVENT OF THE YEAR OF MEXICO IN THE UK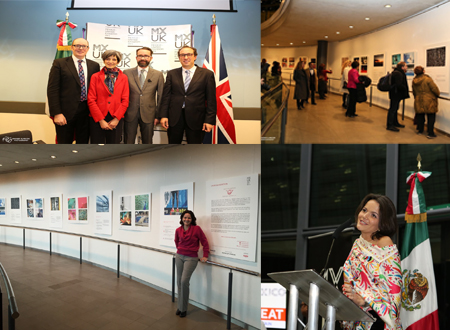 LONDON, United Kingdom., 16 January.- The Year of Mexico in the UK officially commenced last night at City Hall with the launch of "Invisible Mexico, Images Through the Senses"; a photography exhibition from the charity Sight of Emotion Foundation.
The exhibition is a call for the public to remember a vast, diverse and multi-faceted country in which millions of Mexicans live each day. It is an invitation for everyone to acknowledge, from a positive perspective, a country full of life, values and strength. It is a reminder of the importance of diversity and tolerance towards an inclusive society.
The exhibition features the work of 20 blind and visually impaired photographers, members of Sight of Emotion (Ojos Que Sienten A.C.), who give a unique and authentic interpretation of the contemporary and invisible Mexico that most of us have forgotten.
SOE is a Mexican Charity founded by Gina Badenoch who has just been awarded with a British Empire Medal (BEM) in the Queen's New Year's Honours 2014. The award was given for the achievements of this non-profit organisation, which has a mission to transform perceptions towards people who are visually impaired, by focusing in the ability of the disability.
SOE has created a movement through which half a million people with and without disabilities are seeing the visually impaired for their skills, becoming aware the disability is not their identity.
By teaching sensory photography to the visually impaired, they are being seen and heard for what they do have, connecting with the sighted world, while transcending their own barriers and achieving full inclusion in society. It is through the sensibility and vision of blind and partially sighted photographers that people are inspired to think beyond bias and stereotypes. It reminds us of the importance to connect with ourselves and with others in a different way. SOE believes in the power of art, creativity and imagination as tools for personal transformation.
By teaching photography to the blind, creating sensory experiences, dinners in the dark, corporate workshops and gifts with a purpose, SOE is connecting people with and without disabilities, and helping to promote a cultural change in Mexico.
SOE has been replicating part of their model in the UK for the last four years and hope to keep transforming many lives.
---oo00oo---