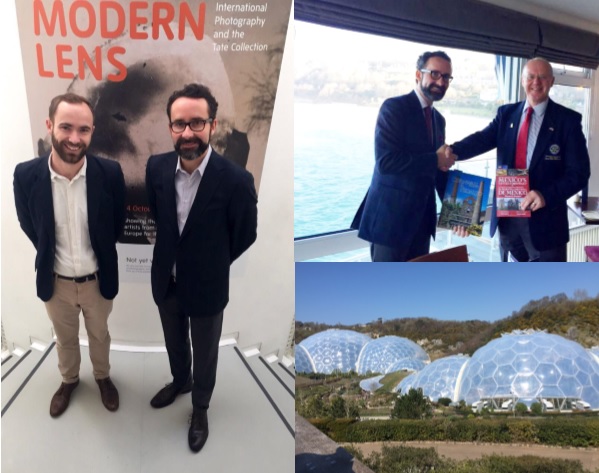 NEW ACADEMIC AND TOURIST LINKS WITH MEXICO PROMOTED IN CORNWALL
CORNWALL, United Kingdom., 13 April 2014.- The Ambassador of Mexico Diego Gomez Pickering accomplish a working visit to the region of Cornwall to promote new tourism and academic mobility projects, as part of the Year of Mexico in the UK .
The Mexican diplomat had a meeting with Stephen Lay, representative of the Mexican Society Cornish- to continue promoting ties between this region and Mexico, particularly in the city of Pachuca, located in the State of Hidalgo.
During the meeting, both explored possible cooperation to promote academic exchanges focused in Cornwall, in the frame of the effort to increase the number of Mexican youngsters studying in the UK and British in Mexico, as well as try new ways to detonate tourism, taking into account the history of the mining industry shared by both regions.
In this context they recalled the legacy of the first (British) cornish who settled in Mexico, who sealed from 1826 a singular and unique bond between England and the State of Hidalgo, where the British Society of Real del Monte, in the mining district Real del Monte y Pachuca, helped to transform forever the Mexican mining.
Ambassador Pickering Gomez visited the Tate St Ives, which has a collection of images by Mexican photographer Manuel Alvarez Bravo. He also met with Sam Thorne, artistic director of the same institution, who shared plans for its expansion and whom he agreed to strengthen ties between Mexican and British artistic organizations.
Also the diplomat visited Eden Project, a bio domes complex that houses various ecosystems such as tropical forest and one Mediterranean. The aim of Eden is to promote environmental education and demonstrate in practice the recovery of arid areas. The purpose of the visit was to explore possible cooperation to include more endemic species of Mexico, as might be different species of maize and cactus.