'THE OTHER WALL' EXHIBITION AT ATRIUM GALLERY IN LSE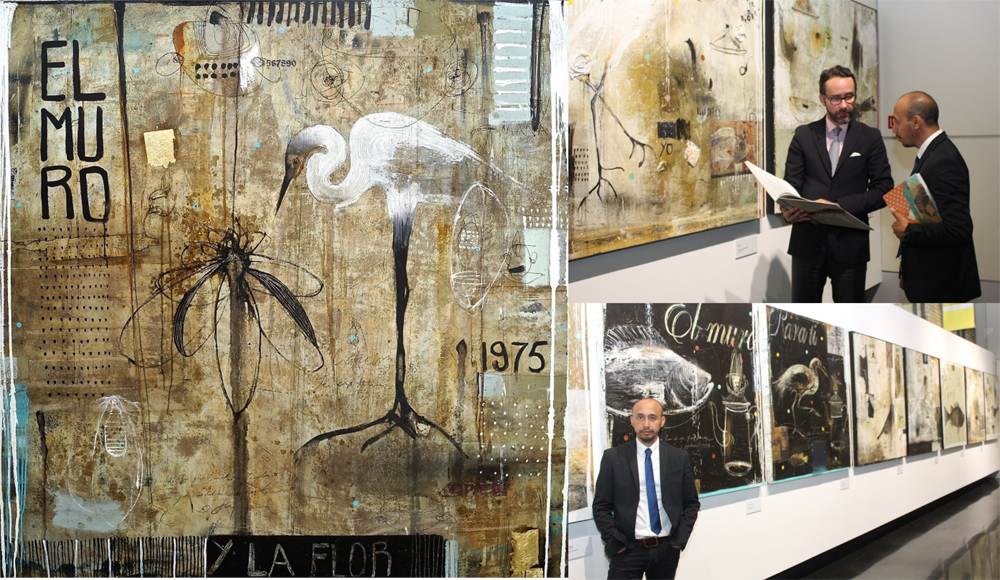 LONDON, United Kingdom, 22th September 2015.- On 11th September took place the opening of the exhibition entitled 'The Other Wall' by the Mexican artist Amador Montes at the Atrium gallery of the prestigious British University, London School of Economics (LSE).
The event was attended by Ambassador Diego Gomez Pickering, Amador Montes, author of the work and Nuri Contreras, promoter of Mexican art. The LSE Mexican Society was in charge of mounting the exhibition and welcomed the distinguished guests.
The Ambassador of Mexico to the United Kingdom, Diego Gomez-Pickering, highlighted the art's role as a catalyser to question preconceived ideas and break traditional patterns. In this context, Montes' exhibition questions the multiple meanings of a wall, which could be to protect us from outside and give us safety and confidence, but also might be barriers which block us to see from the inside and let us enjoy new experiences.
The contents of this exhibition are particularly relevant today in Europe, where migration has become a controversial issue. The works of the Mexican artist Amador Montes invite us to make a reflection about our ideas on this important issue.
The exhibition "The Other Wall" is part of the collections of the itinerant Mexican art that have been presented in various universities throughout 2015 as part of the Year of Mexico in the United Kingdom. "The Other Wall" was also presented at the University of Exeter, the University of Birmingham the emblematic Pierhead in Cardiff, and continue to be displayed in other academic institutions.
Amador Montes was born in the city of Oaxaca in 1975, he studied graphic design at the Popular Autonomous University of Puebla and at the Mesoamerican University in Oaxaca. He complemented his training with workshops in drawing, engraving, painting and photography. He paints as a mean of primary expression.
---oo000oo---