CONTEMPORARY MEXICAN SCULPTURES WILL BE SHOWCASED IN LONDON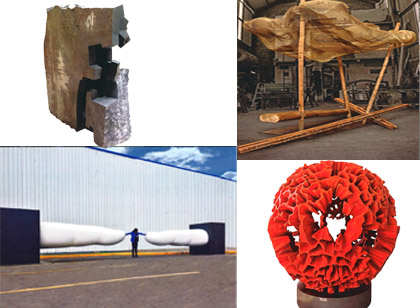 LONDON, United Kingdom.- 4th August 2015.- As part of the activities of the Dual Year celebrated between Mexico and the United Kingdom, "Contemporary Mexican Sculpture, The vision of artists" will be exhibited in London´s public squares, from September to December of 2015.
Mexican sculptors Yvonne Domenge, José Rivelino, Paloma Torres y Jorge Yazpik will be exhibiting recent large-scale pieces in stone, bronze, fibre-glass and sand. They are all well-known artists in the field of visual arts and represent four ongoing generations of sculptors.
This is the first collective showing of large-scale Mexican sculpture in London´s public spaces, in places as emblematic as The Mall, King Charles Island, Trafalgar Square and Grosvenor Gardens, in Westminster, and in One Canada Square, in Canary Wharf.
All four artists have carried put important sculptural projects in public spaces: Yvonne Domenge has exhibited her work in the United States, Canada and China; Jorge Yazpik in Mexico and Germany; Paloma Torres in Switzerland, Qatar and Venezuela; and Rivelino in the United Kingdom, Italy, United States and Russia, among other nations.
The Ministry of Foreign Affairs (SRE), through the Mexican Agency of International Cooperation for Development (AMEXCID), underpinned this project which main goal is to showcase Contemporary Mexican Sculpture internationally.
The overall project for the exhibition was proposed by Nuri Contreras Martret, Director of Art4; and was curated by Katrina Wood, a specialist in Latin American art. Financing was secured through the co-operation of Art4, the artists themselves and the sponsorship of the tourism promotion company, Lodgeo.
London have placed such emphasis on public sculpture and has become a worldwide benchmark in all variants of this discipline, ranging from historical sculptures to the most avant-garde pieces. Today London´s streets, squares and gardens continuously offer an open display where Londoners and visitors alike can become acquainted with the sculptural artwork of leading artists worldwide.
The exhibition Contemporary Mexican Sculpture: the vision of four artists is an opportunity for Mexico to join the dynamic English flair for holding world-class exhibitions in public spaces and to position itself as a country whose artists are peers with the world's best.
The subject-matter for each project was chosen by the artists themselves: Yvonne Domenge is presenting a sculpture in fibre-glass and sand, evoking the beauty and fragility of coral formations; Rivelino presents a monumental sculptural intervention of two fingers in bronze and steel which points out the contradictions in human equality; Paloma Torres is presenting a utilitarian sculpture in bronze that prompts reflection on the relationship between the city and nature; and Jorge Yazpik is presenting a carving in volcanic stone that invites the viewer to ponder the origins and the geology of Mexico City.