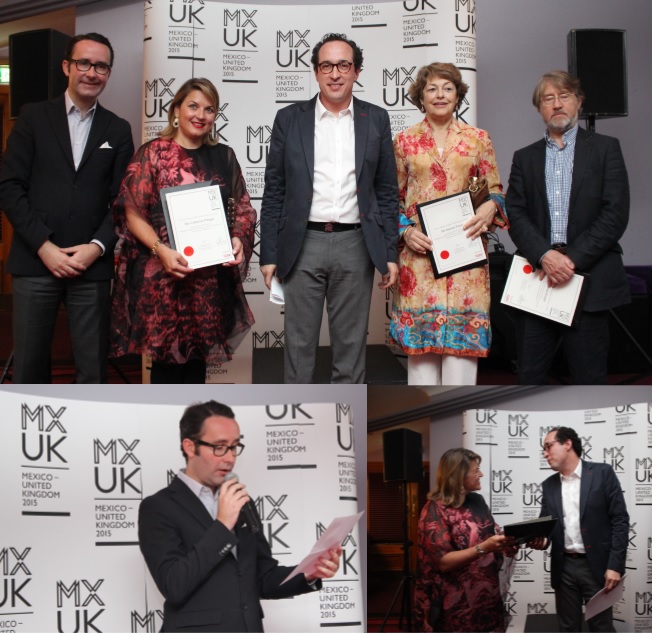 DUAL YEAR 'CHAMPIONS' AWARDED
LONDON, United Kingdom, 17th July 2015.- The Mexican Secretariat of Foreign Affairs (SRE), through the Mexican Agency of International Cooperation for Development (AMEXCID), awarded three British citizens who, by their actions in favour of Mexico, were invited to be representatives or "Champions" of the Year of Mexico in the United Kingdom in its three pillars: Education, Science and Innovation, Arts and Creative Industries, and Trade, Investment and Tourism, respectively.
In a ceremony held on 11th July 2015 at the Royal Albert Hall in London, AMEXCID Director, Juan Manuel Valle Pereña, accompanied by the Ambassador of Mexico, Diego Gomez-Pickering, presented the certificates to Alan Knight, Latin American history professor; Catherine Petitgas, promoter and collector of Mexican art, and Damian Fraser, one of the most prominent businessman -who´s recognition was received on his behalf by his sister Flora.
The so-called "Champions" of the Year of Mexico in the United Kingdom and the Year of the UK in Mexico, announced by President Enrique Peña Nieto and HRH The Prince of Wales, received the applause from representatives of the public and private sectors, media, diplomats and special guests.
AMEXCID Director thanked them for their support, ideas and the companionship throughout this year of intense activities in cultural, academic and economic subjects. The program includes more than one hundred events just in the UK, between exhibitions, forums, film festivals, concerts, seminars, workshops, festivals, food tastings and academic and scientific exchanges.
He recalled that many audiences in cities such as London, Cardiff, Edinburgh, Belfast, Manchester, Oxford, Exeter, Bristol, Bath, Liverpool, Sheffield, Brighton, Cranfield, Margate, Glasgow, St. Andrews, Cambridge, Leeds and Birmingham, have been discovering through the full range of activities that Mexico is much more than a amazing history and culture heritage, or a pleasant vacation destination.
At the end of the speeches, winners and guests at the awards presentation were invited to enjoy the performance –for the first time first at the Royal Albert Hall- of a popular Mexican masked wrestlers, led by Blue Demon Jr.
--oo00oo--