MEXICAN SCHOLAR RECEIVES 'CARLOS FUENTES-MEX-SOC' AWARD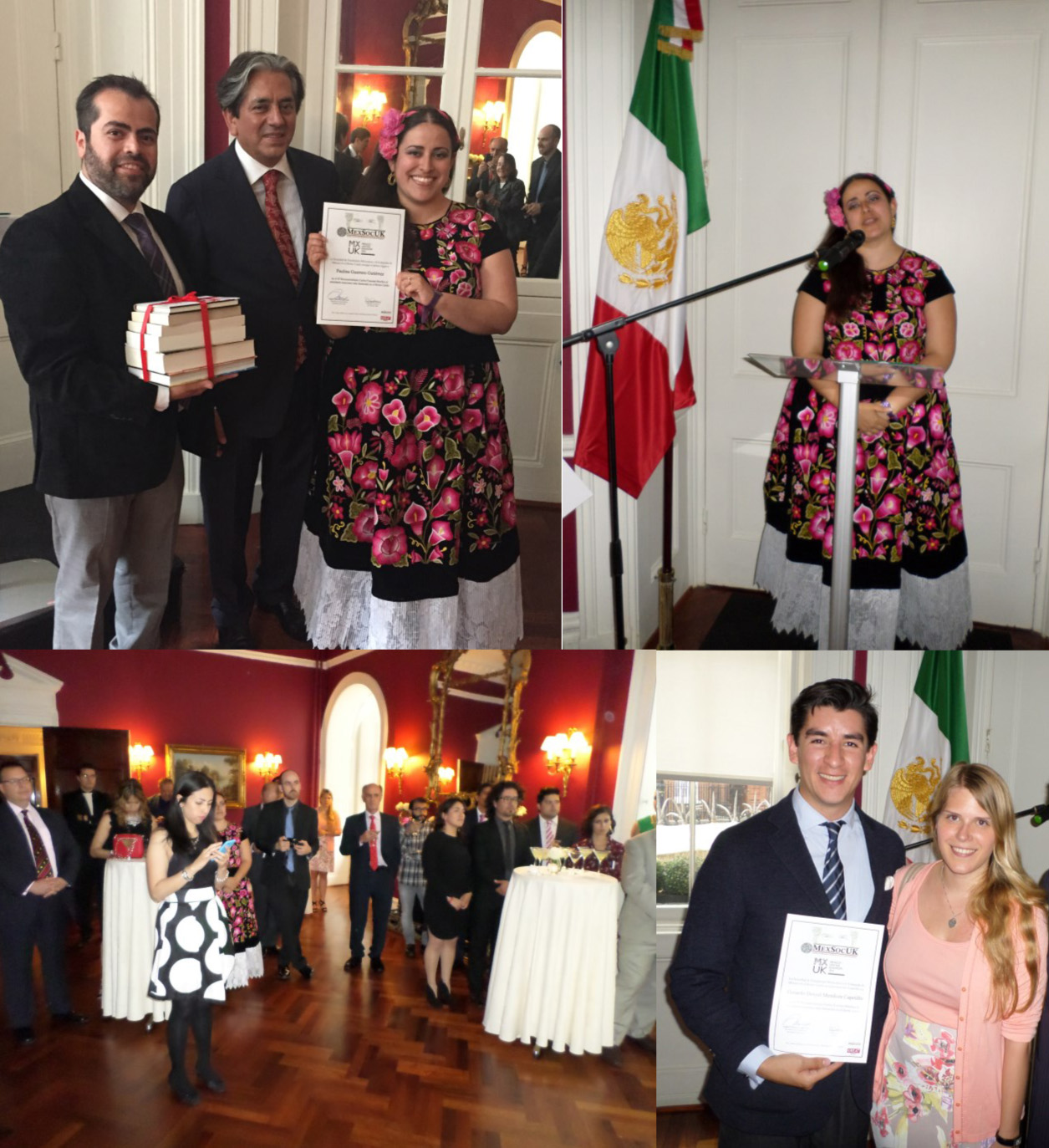 LONDON, United Kingdom, 23nd July 2015.- Mexican student Paulina Guerrero Gutierrez pursuing a PhD in Education at King's College London, received the Carlos Fuentes-Mex Soc Award as the most outstanding Mexican scholar in the UK during 2015, the country which is celebrating the so called Dual Year with Mexico.
The award, in its third annual edition, was given to the scholarship holder of the National Council of Science and Technology (CONACyT) on 17th July at the official residence of the Government of Mexico, by the president of the Mexican Student Society in the United Kingdom (Mex-Soc) and Minister David Najera, on behalf of the Embassy of Mexico.
Paulina studied specialised biology in electron microscopy at UNAM, after that she achieved a master´s degree in Science Education at King´s College. Nowadays she is studying a PhD in Education at the same institution, focusing her investigation in Mexican tele schools that are situated in two Zapotec communities in the Northern Sierra of Oaxaca, in order to promote science learning among communities, as well as respect of the local culture and traditions.

In her speech, Paulina Guerrero, who also heads King´s College Mexican Society, who is also the guardian of low-income students in Oaxaca, explained its commitment to help students of indigenous communities so they can study in a place where the only limiting would be their own ambitions and not their means, as it actually occurs.
In the event there were two more honourable mentions awarded: the first to Juan de Dios Robinson, who is finishing his second postgraduate specialised in trauma and orthopaedic surgery at the Oxford University 'John Radcliffe' Hospital, who also worked six months for Doctors Without Borders in Afghanistan. The second honourable mention was awarded to Gerardo Desyel Mendoza Capetillo, who studied the master´s in Social Policy and Development at the London School of Economics and Political Science (LSE) and who was appointed "Citizen Ambassador" by the United Nations.
--oo00oo--