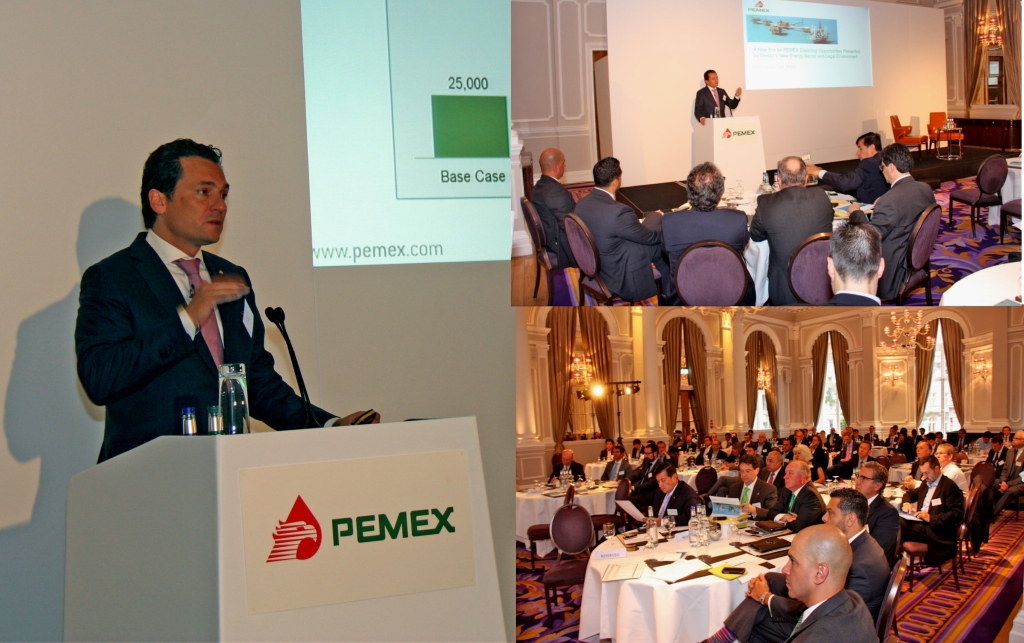 EMILIO LOZOYA LEADS THE "PEMEX DAY" IN THE UNITED KINGDOM
LONDON, England, 31st October 2014.- The Director General of Mexican oil company PEMEX Emilio Lozoya Austin, led the The PEMEX Investment Day where he explained to British representatives of this industry the opportunities in Mexico derived from the recently enacted energy reform.
Lozoya Austin referred that after 7 decades of being closed for private capital investment, the company which he directs will establish partnerships with domestic and foreign companies for the exploration and extraction of hydrocarbons, according to the new legal framework that allows it to associate with others.
Through a presentation entitled: A New Era for Pemex, Exploring Opportunities Presented by Mexico's New Energy Sector and Legal Environment, Lozoya Austin  explained with graphics and figures the connection between the need to modernise the company and streamline the internal mechanism by which the Board approves the operations, increasing its global competitiveness.
In front of an audience of dozens of businessmen and representatives of various institutions, Lozoya Austin explained that the Energy Reform driven by the government of President Enrique Peña Nieto not only opens the door to private capital and technology; which will increase the production of energy in a transparent, efficient, competitive and sustainable manner, but it will also accelerate economic growth and development in Mexico for years.
During a work visit of three days to the capital city of the UK of the Great Britain, which ended yesterday, Lozoya Austin met with representatives of the leading British companies and institutions interested in knowing details of legal steps for its possible involvement in the processes of extraction of oil and natural gas, as well as refining and fuel distribution.