DONATION OF ADVANCED PROTECTION EQUIPMENT TO MEXICAN FIREFIGHTERS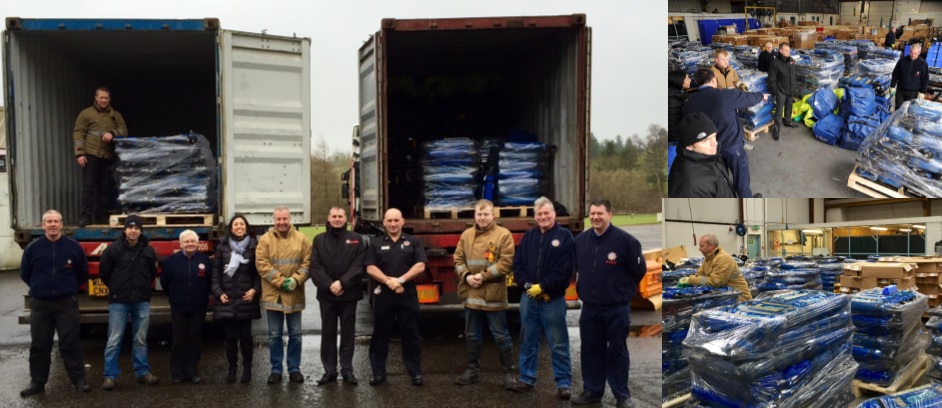 POLMONT, Scotland, 23rd February 2016. - The International Fire and Rescue Association (IFRA) donated a container with uniforms and personal protective equipment, in order to support rescue service and the firefighting in South-eastern Mexico.
During a ceremony attended by representatives of the Embassy of Mexico, on behalf of the government of Mexico, the superseded uniforms, helmets, boots, gloves and more than 800 breathing apparatus sets with cutting-edge technology, are still in very good condition.
The equipment was sent, free-of-charge, from a warehouse in this city, to the Mexican state Chiapas - in a 40 foot capacity container- where it will be distributed among the different Fire Departments.
Representing the Scottish Fire and Rescue Service, John Dickie, explained that his organisation supports the Scottish Fire Service Charity (IFRA), which since 2001 has sent up to 47 containers of vital live saving equipment to 19 different countries worldwide.
He recalled that the personnel from the Scottish Fire and Rescue Service has been involved in 57 training missions in different countries, including Mexico, a country which received in 2014 900 uniforms and Personal Protective Equipment (PPE) for firefighters, with a value close to 11 million pesos (equivalent to £500,000).
Accompanied by David Kay, OBE Director Director/Chair IFRA and Roddy MacKinnon, member of the same organisation, Area Manager John Dickie referred the importance of continuing these collaboration between Fire and Rescue Services of Mexico and Scotland.
The donation of semi new uniforms is part of a collaboration programme with Mexico, with more than 10 years of duration, which began in 2013, and potentially could be expanded in order to send uniforms and equipment to municipal or state police corps, as well as medical equipment for hospitals and clinics, such as wheelchairs.
---oo000oo---