LONDON STOCK EXCHANGE DAY DEDICATED TO THE PACIFIC ALLIANCE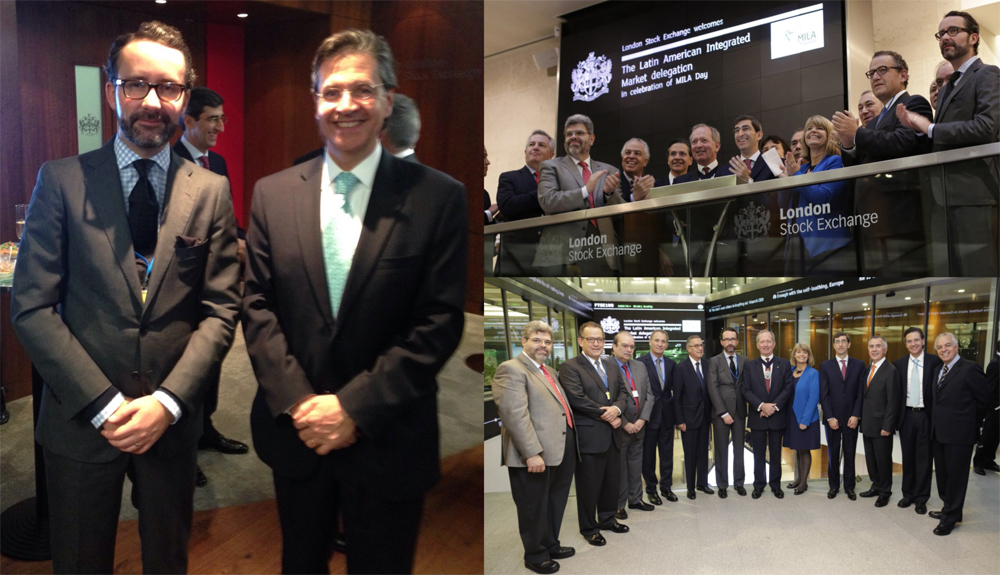 LONDON, United Kingdom, 19th October 2015.- The seminar on the Latin American Integrated Market (MILA) composed by the countries of the Pacific Alliance, took place to identify the opportunities it offers to the Londoner and European stock exchange.
The day began on Friday with the opening of operations at the London Stock Exchange (LSE) attended by the ambassadors of Mexico, Diego Gomez-Pickering; Colombia, Nestor Osorio; Chile, Rolando Drago-Rodriguez and Peru, Julio Muñoz-Deacon, representing the four countries of the Pacific Alliance.
Afterwards, the Lord Mayor of the City of London, Alan Yarrow, explained the importance that MILA and Latin America represent to the United Kingdom of Great Britain.
Organised by the Colombia Stock Exchange in collaboration with the London Stock Exchange (LSE) and the British Ministry of Finance (HMT), directors of the stock exchanges of the countries that integrate the Pacific Alliance -including Dr. Pedro Zorrilla, Director General of Corporate Services of the Mexican stock exchange- exposed the details of this new effort of market integration.
The event, which also included executives from the Organisation for Economic Co-operation and Development (OCDE) and the Inter-American Development Bank (IDB), concluded with the closing remarks by the Ambassador of Colombia to the UK, who mentioned that the embassies of the Pacific Alliance (AP) in this capital city are working in coordination to promote regional integration for economic development of the four member countries.
--oo00oo--