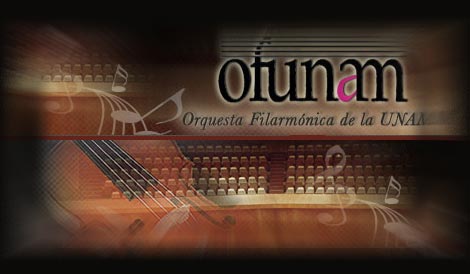 Mexican Treasure
Orquesta Filarmónica de México UNAM makes its debut in the UK with a four-concert series conducted by Music Director, Jan Latham-Koenig
Tour to Cambridge, Guildford, Basingstoke and London presented as part of
'The Year of Mexico in the UK'
One of Mexico's finest orchestras makes its UK debut this summer with a compelling programme of Mexican and Latin American music alongside works from the USA, Britain and Spain. The Orquesta Filarmónica de México UNAM and its Music Director, Jan Latham-Koenig, are set to launch their tour on 5 July at the Cambridge Corn Exchange. Their itinerary unfolds with concerts at G Live Guildford (7 July), The Anvil, Basingstoke (8 July) and London's Cadogan Hall (9 July). The tour takes place under the aegis of 2015: the Year of the UK in Mexico and The Year of Mexico in the UK, a joint initiative of the British and Mexican governments designed to strengthen cultural and economic relations between the two countries.
The Orquesta Filarmónica de México UNAM was founded in 1936 at the Universidad Nacional Autónoma de México (UNAM) in Mexico City. It became the first professional symphonic ensemble in Mexico to present an annual season of concerts. The orchestra's UK tour programme, which includes works by Carlos Chávez, Arturo Márquez and José-Pablo Moncayo, reflects its abiding commitment to music by Mexican composers and the striking diversity of its repertoire.
"Although the Orquesta Filarmónica de México UNAM has been established for nearly 80 years, it's a young orchestra in terms of its players and also in terms of their hunger to become the best they possibly can," comments Jan Latham-Koenig. The British-born conductor first worked with the orchestra four years ago and was immediately struck by its artistic quality. "This was not a surprise given the high number of excellent composers and musicians Mexico has produced. But I was completely unprepared for the magnificence of the University's Cultural Centre, its extraordinary Sala Nezahualcóyotl and by the orchestra itself. The concert hall has unbelievably good acoustics, similar to and arguably better than those of the Philharmonie in Berlin." The Cultural Centre, he adds, also comprises two additional concert halls, an opera theatre, two smaller theatres and a large art gallery, creating what feels like a small town devoted to arts and culture.
Latham-Koenig readily agreed to become Music Director of the Orquesta Filarmónica de México UNAM in 2011. Since taking up the post, he has worked tirelessly to reinforce the orchestra's discipline and cultivate its tonal beauty and variety. "The musicians have become aware of the very highest level they can attain. Our concerts are almost always sold out and attract audiences of all ages and backgrounds. I am certain that our UK tour audiences will be delighted by the orchestra's music-making."
Fernando Saint Martin, General Director of Music says that "Mexico and the United Kingdom decided to celebrate the 'Year of Mexico in the United Kingdom' and the 'Year of the United Kingdom in Mexico' in 2015 to promote exchange in different areas, and culture is one of them. Mexico is a country with an enormous and rich cultural tradition and we think this is a great opportunity to show a bit of the great quality and importance of Mexican concert music which is not very well known abroad. The main significance of the UK tour is to represent Mexico as a country and to represent the National Autonomous University of México which is one of the most important universities in Latin America. Last year, our orchestra had a tremendous success during its tour around Italy and we are convinced that the level of artistry and professionalism of our musicians and our Music Director can bring us the same success in the UK and hopefully make Mexican music and our orchestra more known around the globe."
The Orquesta Filarmónica de México UNAM's tour programme opens with a bold transcription by Carlos Chávez of Dietrich Buxtehude's Chaconne in E minor. The work, originally written for organ, gains fresh life in its orchestral version. "This piece is among Chavez's finest compositions," comments Jan Latham-Koenig. "It is an inspiring orchestration of Buxtehude's work that makes an intensely powerful introduction to a concert." The Buxtehude-Chavez Chaconne is followed by Danzón No.2 by Arturo Márquez, written for and first performed by the Orquesta Filarmónica de México UNAM in 1994. The work's apparent metrical changes are delivered by subtle shifts of accent, a particularly strong feature of Mexican music.
The programme's first half includes Ralph Vaughan Williams' The Lark Ascending and Gustav Holst's Song of the Night, with Tasmin Little as soloist in both works. "We're delighted to be working with Tasmin again after the success of her recent performances with the Orquesta Filarmónica de México UNAM and to build the links between British and Mexican music and musicians with this programme," observes Latham-Koenig. "Song of the Night, which makes an ideal companion for The Lark Ascending, deserves to be much better known than it is." Holst's work provides a serene preface to the vitality of Manuel de Falla's The Three-Cornered Hat, commissioned by Sergei Diaghilev and first performed by his Ballets Russes at London's Alhambra Theatre in July 1919.
"I am thrilled to be performing with the Orquesta Filarmónica de México UNAM for their UK tour," comments Tasmin Little. "I made my first visit to Mexico City this February and worked with the orchestra's wonderful players and their marvellous maestro, Jan Latham-Koenig. Our concerts together were so enjoyable and the audiences could not have been more enthusiastic. I am sure that the orchestra will receive similar enthusiasm from UK audiences during their visit, and am looking forward to making music with these warm and sensitive musicians when we meet again this summer."
George Gershwin's Rhapsody in Blue launches the programme's second half, for which the Orquesta Filarmónica de México UNAM will be joined by the internationally acclaimed pianist Jorge Federico Osorio, a native of Mexico City. The programme also includes Ryszard Siwy's arrangement for saxophone and orchestra of Adios nonino by Astor Piazzolla, with Rodrigo Garibay as soloist; Arturo Márquez's Conga del fuego, a virtuoso showpiece made popular in recent years by Gustavo Dudamel and the Orquesta Sinfónica Simón Bolívar; and José-Pablo Moncayo's Huapango. Moncayo studied composition with Carlos Chavez at the Mexico City Conservatory and subsequently took lessons from Aaron Copland at the Berkshire Music Institute. His Huapango, first performed by the Symphony Orchestra of Mexico and Chavez in 1941, was inspired by popular music from the Mexican state of Veracruz.
"We want British audiences to become aware of the cultural richness and musical heritage of Mexico," notes Jan Latham-Koenig. "Our tour programme underlines the depth of cross-cultural cooperation between Britain and Mexico. The orchestra's visit to the UK is also about stimulating its artistic development, letting people hear what it is capable of and raising its international profile."
For press enquiries, please contact:
Valerie Barber PR
Suite 2
9a St John's Wood High Street
London, NW8 7NG
Tel: 00 44 (0)20 7586 8560
This email address is being protected from spambots. You need JavaScript enabled to view it. / www.vbpr.co.uk
Tour dates
July 5th, 2015, 7.30pm - Cambridge Corn Exchange
July 7th, 2015, 7.30pm - G Live, Guilford
July 8th, 2015, 7.30pm - The Anvil, Basingstoke
July 9th, 2015, 7.30pm - Cadogan Hall, London
Jan Latham-Koenig conductor | Tasmin Little violin | Jorge Federico Osorio piano | Rodrigo Garibay tenor saxophone | Orquesta Filarmónica de México UNAM
Buxtehude-Chávez Chacona
Marquez Danzón no. 2
Vaughan Williams The Lark Ascending
Holst Song of the Night
De Falla Three Cornered Hat
Gershwin Rhapsody in Blue
Márquez Conga del fuego
Piazzolla Adios nonino
Moncayo Huapango
Notes for Editors
Orquesta Filarmónica de México UNAM
The Orquesta Filarmónica de México UNAM, formed as a professional ensemble in 1936, is the oldest symphonic ensemble in Mexico City. The orchestra performs in the Sala Nezahualcóyotl, which was designed by Arcadio Artis and J. Christopher Jaffe and opened in December 1976. The hall's design was inspired by Amsterdam's Concertgebouw and the Berlin Philharmonie and has acoustics which are comparable to those of both these world-famous concert halls.
The internationally renowned orchestral and opera conductor Jan Latham-Koenig has been Music Director of the Orquesta Filarmónica de México UNAM since 2011. His predecessors include Eduardo Mata, Ronald Zollman, Chen Zhohuang and Alun Francis.
Jan Latham-Koenig
Born in London in 1953, Jan Latham-Koenig studied conducting with Norman Del Mar and piano with Kendall Taylor and Lamar Crowson at the Royal College of Music. He pursued a successful career as a pianist and conductor before deciding to devote his time exclusively to conducting. Latham-Koenig's international reputation was built in the 1980s with a series of critically acclaimed opera performances, including Puccini's La bohème at the Royal Opera House, Covent Garden, and a sensational account of Verdi's Macbeth at the Vienna State Opera. From 1989 to 1992 he served as music director of the Orchestra of Porto, which he founded at the request of the Portuguese government.
Latham-Koenig was appointed permanent guest conductor at the Vienna State Opera in 1991 and has since given over 100 performances with the company. He is also a regular guest at the Royal Opera House, the Opéra National Paris-Bastille and the main opera companies of Berlin, Hamburg, Rome, Lisbon and Santiago in Chile. During the 1990s he held the post of principal guest conductor at the Teatro dell'Opera di Roma and, from 1997 to 2002, was music director of both the Orchestre Philharmonique de Strasbourg and the Opéra National du Rhin.
In 2005 Jan Latham-Koenig was appointed music director at the Teatro Massimo in Palermo, the first British conductor to hold such a post at one of Italy's major theatres. He became chief conductor of Moscow's Novaya Opera in 2011, reinforcing its status as a world-class company with productions of Wagner's Lohengrin and Tristan und Isolde, Verdi's Nabucco and Il trovatore, Borodin's Prince Igor, Ravel's L'enfant et les sortilèges and Britten's The Turn of Screw. Since 2013 he has taken responsibility for Nova Opera's future development as head of its artistic board.
Jan Latham-Koenig is in high demand as a guest conductor in the opera house and concert hall. He has appeared with many of the world's leading orchestras and has long-established guest relationships with, among others, the orchestras of the Teatro Comunale in Florence, RAI Turin and the Accademia di Santa Cecilia in Rome. He was appointed music director of the Orquesta Filarmónica de México UNAM in 2011 and has been artistic director of the Flanders Philharmonic Orchestra in Bruges since 2013. In addition to conducting the Orquesta Filarmónica de México UNAM, Latham-Koenig also collaborates with the Director General of the Universidad Nacional Autónoma de México's Cultural Centre to programme its extensive music series.