COMMEMORATION OF THE MEXICAN ARMY AND AIR FORCE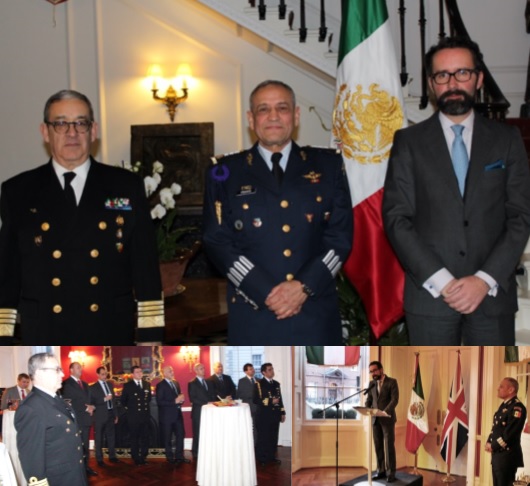 LONDON, United Kingdom, 24th february 2015.- With a recognition to the institutional commitment of the armed forces to face current challenges as well as being a relevant part of the transformation of Mexico, last night was commemorated the anniversary of the Mexican Army and Air Force.
In the official residence of the Government of Mexico, it became clear that the armed forces have been an important part of the transformation that Mexico had experienced and have been able to adapt and respond to the challenges that the 21st century has brought, with a clear institutionalized commitment towards the values of a democratic society.
A few hours from the celebration of the Flag Day, General Jesus Pablo Franco Martinez stressed out the confidence of the Mexican people in the Army and Air Force and recalled the particular role that both have played in assisting communities during emergency situations such as natural disasters and relief operations, which also has gained them international recognition.
Ambassador Diego Gomez-Pickering mentioned that in order to promote the internationalization of the armed forces and assuming its role as a global player, President Peña Nieto announced last year that Mexico will participate in UN Peacekeeping Operations.
In the presence of military and naval attaches from various diplomatic missions the diplomat highlighted that in the next days the Mexican President will carry out a State Visit to the UK, by the invitation of Her Majesty, Queen Elizabeth II, as an example of the importance of the bilateral relation, in the framework of the Year of Mexico in the UK.
---oo000oo---