ELENA PONIATOWSKA CONFERENCE ON MEXICAN LITERATURE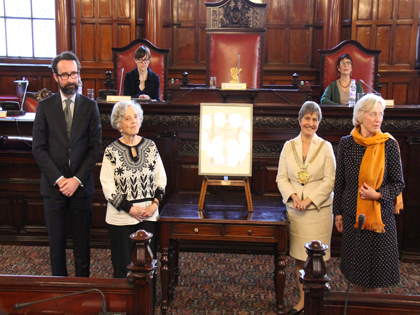 LIVERPOOL, England, 20th April 2015.- The writer and journalist Elena Poniatowska gave a lecture on the contribution of Mexican authors such as Octavio Paz –Nobel Prize in 1990- Carlos Fuentes and Carlos Monsivais.to the literature world
In the Council Chamber of the Town Hall building she also shared with more than one hundred people an explanation of the book devoted to the life and work of Mexican-British artist Leonora Carrington, considered a cornerstone in surrealist movement.
As part of the closing events of The London Book Fair in which she participated, the famous author of The Night of Tlatelolco eloquently recounted how Leonora Carrington found in the arts a vehicle of expression against inequality and recalled the relevance of the journey to San Cristobal de las Casas, in a Mexican State of Chiapas, where years after a popular movement was upraised in favour of the indigenous people.
In front of the Lord Mayor and Councillor of the City of Liverpool, Erica Kemp, and Baroness (Gloria) Hooper, Poniatowska said proudly that her profession as a journalist and writer had always allowed her the freedom of speech.
Considered as one of the most representative Mexican women in the literary field, with more than fifty books to her credit, Poniatowska was recognised for her contribution to the arts and culture, and particularly for her novel entitled: Leonora, which recounts the life and work of Carrington, whose exhibition will remain open until 31 May in the Tate Gallery in Liverpool.
The Ambassador of Mexico to the United Kingdom, Diego Gomez-Pickering, was pleased that the names of Carrington and Poniatowska -who has received numerous international awards including the Cervantes Prize and the Medal of Bellas Artes- are part of the cultural programme of the Year of Mexico in the UK. For more information about the programme of activities, please visit: www.mexicouk2015.mx.
---oo000oo---