MEXICO HONOURS NICK CLEGG WITH THE ORDER OF THE AZTEC EAGLE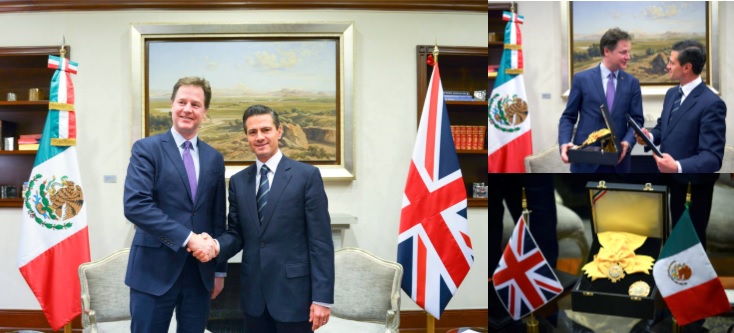 MEXICO CITY, 3rd March 2016.- President Enrique Peña Nieto conferred the Mexican Order of the Aztec Eagle in degree of Sash, to the Member of Parliament and Former Deputy Prime Minister of the United Kingdom, Nick Clegg, for being one of the key-stone promoters of the bilateral relation between Mexico and this nation.
"You are a friend of Mexico. The award is well deserved", mentioned the Mexican President who expressed his recognition to the MP for the interest and commitment of strengthening ties between Mexico and the United Kingdom.
In the ceremony, which took place at the Official Residence "Los Pinos", President Enrique Peña Nieto was accompanied by the Minister of Foreign Affairs, Claudia Ruiz Massieu.
The British Parliamentary shared his gratitude to the government and the people of Mexico for this distinction and reinforced his commitment to keep working for the strengthening of the relationship between this two nations.
Nick Clegg has been Deputy Prime Minister of the UK; leader of the British Liberal Democrat Party and Member of Parliament. He has been MP since 2005.
Mexico and the United Kingdom hold an important economic relation. In 2014 bilateral trade reached USD $ 4.3 billion.
The Mexican Order of the Aztec Eagle is the highest recognition granted by the Mexican government to foreign citizens for their contributions to the development of knowledge and for their service to our country.
In September 2015, Their Royal Highnesses the Prince of Wales and The Duchess of Cornwall have been awarded the Mexican Order of the Aztec Eagle (OMAA, for its acronym in Spanish) in appreciation of their decisive support for the State Visit of the President of Mexico Enrique Peña Nieto to the United Kingdom from 3rd to 5th March.
It is noteworthy to mention that one of the notable recipients who have been bestowed before is HM Queen Elizabeth II -in degree of Collar- in 1973.
--oo00oo--