MEXICO'S NATIONAL STRATEGY TO FIGHT OBESITY AND DIABETES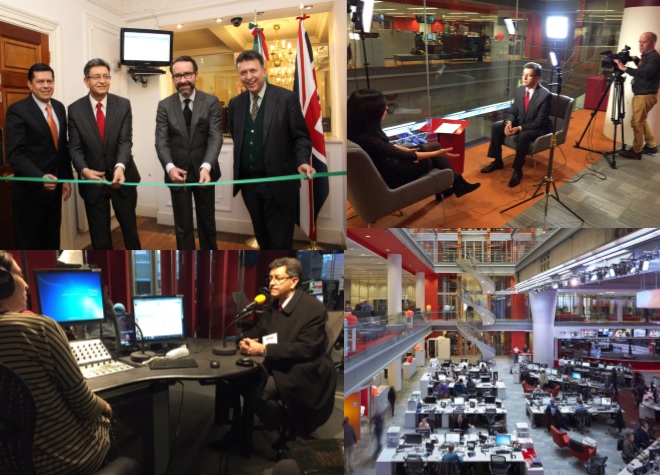 LONDON, United Kingdom, 4th February 2016.- Mexico participated at the International Diabetes Conference organised by the British Parliament, where national policies to prevent it were addressed, as well the contribution of taxing sugar-sweetened drinks and junk food, in order to reduce the rates of obesity among Mexican people.
Dr. Pablo Kuri Morales, Undersecretary for Diseases, Prevention and Health Policy in the Mexican Secretariat of Health, referred the constant effort of our country to reduce the effects of both diseases which kill thousands of people every year.
At the House of Commons, Dr Kuri acknowledged the efforts done by the Mexican legislators of all political parties, who in January 2014 enacted the new one peso-per-litre soda tax (equal to about 10% of the pre-tax price), and an 8% tax on junk food, as part of a new strategy for combating obesity and diabetes, reducing its consumption around 6%).
On this subject, the health representative was interviewed by BBC radio and the program Business Live of BBC World News TV –which will be broadcasted today at 20:00 hrs- and confirmed that the strategy of Mexico and its positive results had been analysed and even replicated for different countries, although he clarified that not only by applying a new tax the problem would be sorted out, but it has to be accompanied by different prevention measures and information to the consumer.
In the city of Oxford, the government representative held a Lecture of Mexico's National Strategy for the Prevention and Control of Overweight, Obesity and Diabetes, and previously he inaugurated the Mental Health Hub at the Consular Section of the Embassy of Mexico.
Along with the Ambassadors of México to the UK, Diego Gomez-Pickering, and to Ireland, Carlos Garcia de Alba (pioneer of this programme), Dr. Kuri received an explanation from the Consul Anibal Gomez about how the bilingual digital platform works, which had emerged as a tool to provide support and information to Mexicans who are in the UK and who might be suffering from anxiety, depression, bipolar disorder or Alzheimer's.
---oo000oo---