MEXICAN SCIENTIST PARTICIPATED IN THE DISCOVERY OF THE HIGGS BOSON PARTICLE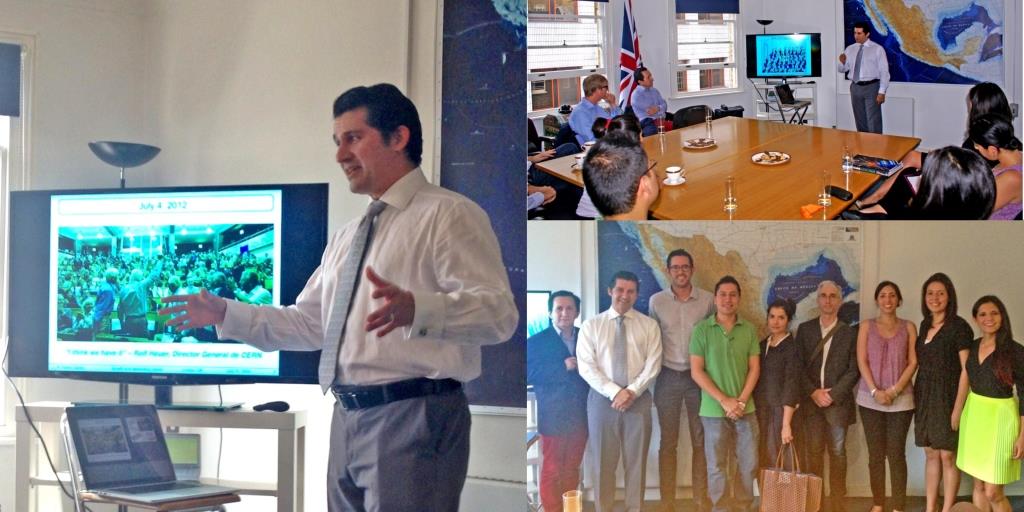 LONDON, UK, August 1, 2014.- The Mexican scientist Luis Castillo Flores, who is a recognized physicist and a researcher at the European Organization for Nuclear Research (CERN, for its acronym in French) visited the Embassy of Mexico yesterday to talk about his work. Prof. Flores works in ATLAS, which was one of two the key experiments involved in the discovery of the Higgs Boson particle. He is also a professor at the Chinese University of Hong Kong and President of the Switzerland Chapter of the Mexican Talent Network.
During his presentation the Mexican scientist explained in a simple and entertaining way how was the particle accelerator built in Geneva and how they conducted the experiments that led to the discovery of the Higgs Boson particle in 2012, which until then was only a theory. He also mentioned that the next big challenge will be to find the particle that produces dark matter. After his presentation, he answered questions from the audience and emphasized that there are more than 50 Mexicans working right now at CERN, most of them are young and very talented scientists.
The conference was part of the Growth and Networking series organised by the Mexican Talent Network in the UK.