"POWER TO THE PIXEL" TRANSMEDIA FORUM CELEBRATED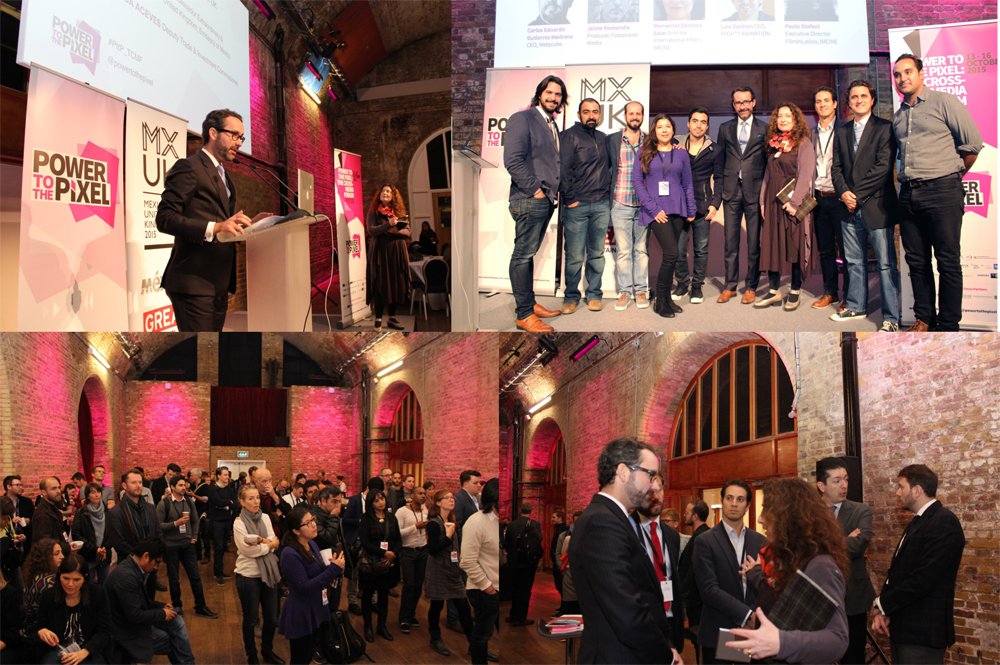 LONDON, United Kingdom, 22nd October 2015.- Mexico participated in the transmedia forum 'Power to the Pixel', held from 13th to 16th October 2015, in the framework of the 59th edition of the London Film Festival.
The event, considered as the most important in the world, was focused on the creators and producers of transmedia or narrative multiplatform of Latin-America, who distribute stories and engage with audiences across multiple platforms.
Thus, for three days leading innovators, producers, financing agents, commissioners and representatives of hundreds of media, film, television, advertising, virtual games, publishing and arts in general, explored new schemes of dissemination and distribution of audio-visual content.
In Mexico, representatives of IMCINE, ProMexico as well as companies such as Proyecta, Grupo Muv, Blindspot, Metacube and Mantarraya Fotosíntesis Media had the opportunity to explore alliances with British and international companies and new financing mechanisms to distribute its content.
In the so-called Pixel Market, important projects were selected such as: "The Angel in the Clock" presented by Jaime Romandia of Fotosíntesis Media and "HAWC: Apparent Horizon" by Manuel Alcala of Proyecta, and also included the participation of Luis Patricio Salmon Bada, (Mighty) and Andres Reyes Botello, (Boxel Animation).
During the opening, the Ambassador of Mexico in the United Kingdom, Diego Gomez-Pickering, thanked Liz Rosenthal, CEO and founder of 'Power to the Pixel', the opportunity to promote Mexican talent right in the framework of the Dual Year celebrated between Mexico and the United Kingdom.
The diplomat highlighted that Mexico is a country with a strong creative tradition, particularly in industries such as film and television, in addition that the video game sector recorded a growth of 7.6% in the last five years.
For more information, visit the Power to the Pixel website:
http://www.powertothepixel.com/

--oo00oo--