WORLD MARITIME DAY CELEBRATED AT THE IMO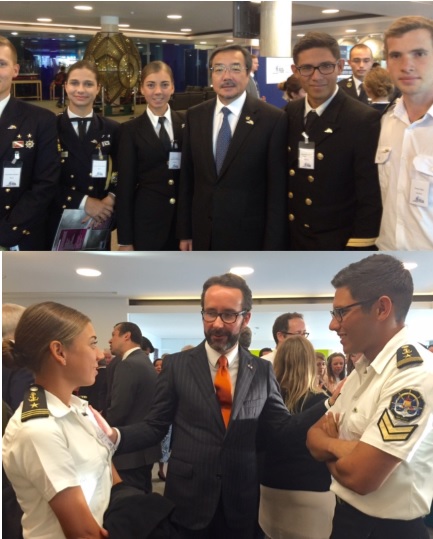 LONDON, United Kingdom, 29th September 2015.- In the framework of the World Maritime Day 2015, Mexico reaffirmed its compromise to strengthen the presence of the International Maritime Organisation (IMO) and announced that soon will nominate its Maritime Ambassador and that will also work to win the re-election at the Organisation's Council, in the "C" category, for the 2016-2017 period.
In the ceremony celebrated on 24th September, headed by Secretary-General Koji Sekimizu, Mexican students Katia Lizette Higuera Velazquez and Maximiliano Aaron Vazquez Garcia, from the Merchant Marine Academy "Cap. Alt. Luis Prieto Gonzalez" of Tampico, Tamaulipas, were guests at the event.
The Ambassador of Mexico, Diego Gomez-Pickering thanked Secretary-General Sekimizu for the courtesy of receiving them at the celebration of the World Maritime Day, which main subject this year was "Maritime Education and Training", highlighting that this was the first time an exchange of this nature took place, making it a priority to generate interest among the new generation of Mexicans in the wide spectre of the maritime professions.
During his speech, the diplomat also detailed the next appointment of a Mexican Maritime Ambassador, of good-will and honorary, will reinforce such advocacy for the maritime and seafaring professions as well as strengthen the maritime culture in our country.
In his capacity as Permanent Representative to the IMO, Ambassador Gomez-Pickering reiterated the Secretary-General of the IMO his determination to maintain the same level of participation in the Organization's works to be presided until later this year, compromise which will be firmly sustained once he is succeeded in office by Ki-tack Lim, starting 1st January 2016.
For his part, Secretary Sekimizu also highlighted the need for further efforts so that new generations consider making a maritime profession.


--oo00oo--