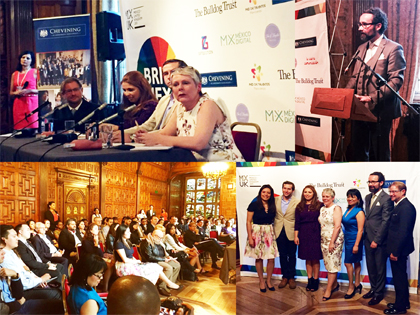 BRITMEX' SECOND EDITION IN THE UNITED KINGDOM
LONDON, United Kingdom, 12th May 2015.- For the second year BritMex was celebrated as an initiative organised by the Mexican Talent Network UK and the Chevening former alumni in order to boost alliances between Mexican and British future leaders and entrepreneurs.
Named Ideas Booster: The Power of Many, BritMex was held at the Two Temple Place, with the participation of Deb Leary, member of Britain´s top 100 women entrepreneurs; Carlos Serra, Director of Operations at SocialBro; Sarah Safa Kasim, CEO and Vice Chairman at Al Maseer Insurance and Andres Roemer, entrepreneur, academic, journalist and Consul of Mexico in San Francisco.
The speakers shared their stories as successful entrepreneurs, emphasizing the importance of being open minded to new opportunities and alternatives to achieve its objectives.
Ambassador of Mexico Diego Gomez-Pickering recognised the role of Mexican Talent Network to promote various activities within the area of education, innovation and science as part of the celebration of the Year of Mexico in the United Kingdom.
The diplomat highlighted that BritMex represents an example of what it is expected to achieve in the Dual Year in the UK: sharing with British society the innovative and economic opportunities offered by Mexico and encourage current and future generations of leaders, entrepreneurs and investors to meet each other, linked and become involved together in innovation projects.