MORE CHEVENING SCHOLARSHIPS FOR MEXICO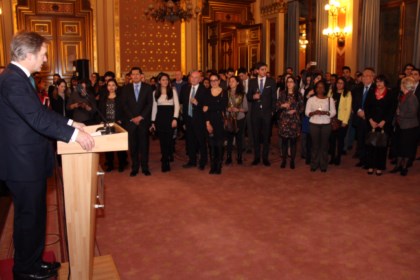 LONDON, United Kingdom, 10th February 2016.- As a result of the Dual Year 2015, celebrated between Mexico and the United Kingdom, and considering the significant strengthening of the bilateral relation in the academic area, the United Kingdom increased by 400% the number of Chevening scholarships for outstanding Mexican students to study in the best British universities.
In order to reaffirm its commitment as an observer country of the Pacific Alliance, the United Kingdom announced 25 Chevening scholarships for students from each country member of this mechanism, of which eight were offered to Mexico.
The Minister of State for Latin America at the Foreign and Commonwealth Office (FCO) Hugo Swire, hosted a reception on 8th February for Chevening scholars and alumni from Mexico and Central America, joined by representatives of the Embassy of Mexico and Latin American members of the diplomatic corps accredited to the Court of St. James's.
It is noteworthy to underscore the growing number of Chevening scholarships for Mexico from 25 in 2014-2015, to 101 scholarships for 2015-2016. Therefore, Mexico is one of the top five countries that received more scholarships from over 116 countries of the Chevening programme.
--oo00oo--