MEXICAN ART EXHIBIT AT UNIVERSITY OF EXETER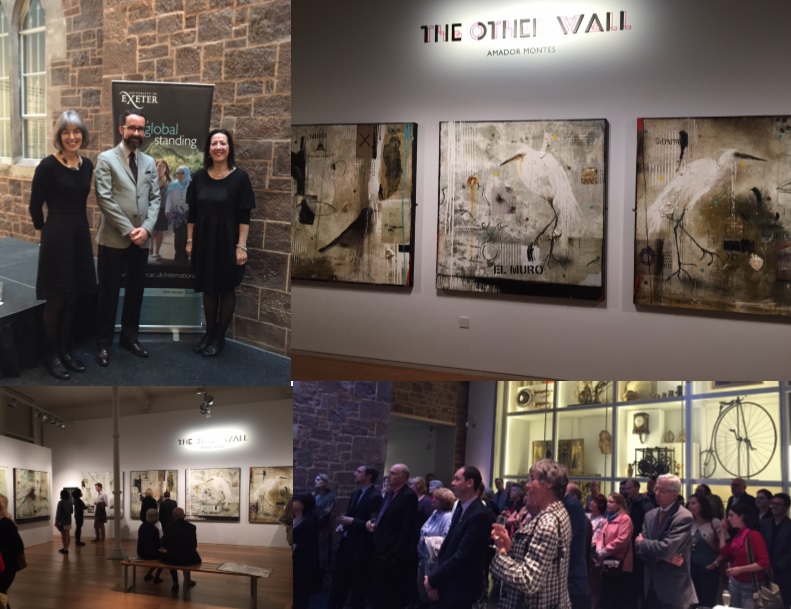 EXETER, United Kingdom 10th April 2015.- Today, the exhibition of the Mexican artist Amador Montes "The Wall" was inaugurated at the Royal Albert Memorial Museum (RAMM) in the city of Exeter. The exhibition was organised by the University of Exeter and the Embassy of Mexico in the United Kingdom. This event marks the beginning of a series of itinerant exhibitions to promote Mexican art and culture in various British universities in the context of the 2015: Year of Mexico in the UK.
The exhibition was formally inaugurated by the Ambassador Diego Gomez-Pickering and Prof. Janice Kay, Provost of the University of Exeter, who agreed on the importance of the relationship between the two countries and invited attendees to explore economic, academic and cultural potential of the Year of Mexico in the United Kingdom. Both the diplomat and the provost highlighted that this exhibition is a sample of the great interest that exists in the UK to strengthen the relationship with Mexico. Camilla Hampshire, Manager of RAMM and curator of the exhibition, said that this is the first time the Museum was hosting the work of a Mexican artist and the artist's first exhibition in the UK.
Amador Montes, from the state of Oaxaca, combines the natural and animal world with the myths and customs of the indigenous world to create works with a strong mestizo influence. In this exhibition, the talented artist alludes to the migration of both animal species and humans, and the barriers that block the natural flow of these processes. His work combines different textures, materials and colours to create visually attractive and dynamic paintings.
--oo00oo--