MEXICAN CONGRESSMEN ANALYSE THE IMPLEMENTATION OF EDUCATION TECH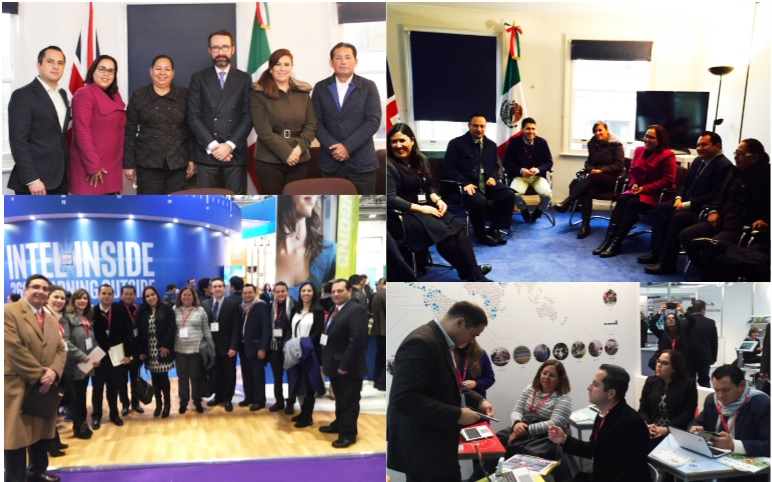 LONDON, United Kingdom, 25th January 2016.- A multi-party delegation of six federal congressmen, led by the President of the Education Commission, Hortensia Aragon Castillo, participated in the Education Technology Fair (BETT) which took place from 20th to 23rd January 2016.
The Mexican legislators, members of the main political forces represented in the Commission of Education of the Mexican Congress, were able to verify some technological advances to improve quality and access to education, applicable in Mexico, including the potential derived from the use of electronic tablets by students of primary and secondary levels.
During his working visit, the members of Congress Miriam Dennis Ibarra-Rangel (PRI); Joaquin Diaz-Mena (PAN); Hortensia Aragon-Castillo (PRD); Jose Refugio Sandoval-Rodríguez (PVEM), Manuel Alexander Zetina-Aguiluz (Nueva Alianza) and Ana Guadalupe Perea-Santos (PES), conducted a guided-tour to the British Parliament and were received at the Embassy of Mexico by Ambassador Diego Gomez-Pickering, with whom they discussed subjects related to the progress recently achieved by the bilateral educational exchange.
The congressmen agreed to promote education offers and scholarships programmes of various British institutions in order to increase the number of Mexican students taking postgraduate studies in the United Kingdom, which is already positioned as their first  choice as an academic destination, having surpassed in 2015 the United States of America.
On this, the legislators recognised the educational challenges that Mexican students are facing studying abroad, such as the English language proficiency, and their need to have a better academic infrastructure in Mexico and more competitive job offers when they end their studies.
The congressmen also exchanged points of view with Mexicans who are currently doing masters or doctoral studies in the UK, who requested their support to improve economic assistance, regardless the scholarship that most of them already have from CONACyT.
The dialogue was extended to issues related to the participation of women in Mexican politics and the efforts made by Mexico to meet international commitments in terms of increasing investment in research and education.

---oo000oo---