JUSTICE FROM THE MEXICAN SUPREME COURT VISITS THE UNITED KINGDOM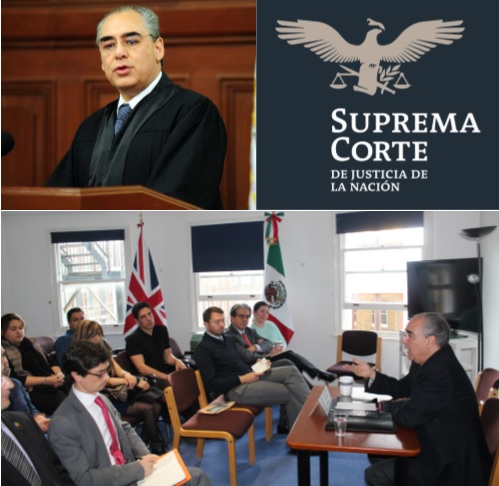 LONDON, United Kingdom, 7th October 2015.- The President of the Royal Courts of Justice, Lord Neurberger of Abbotsbury met with Justice Jose Fernando Franco Gonzalez Salas, from the Mexican Supreme Court of Justice (SCJN), and  discussed together legislative developments in human rights and law enforcement in Mexico.
During the meeting at the Houses of Parliament, Minister Franco transmitted Lord Neuberger how proud the SCJN was for having been recognised with the Human Rights Award of the United Nations in 2013, for his outstanding contribution to the promotion and protection of human rights and fundamental freedoms.
This distinction, established in 1963 and granted for the first time in 1968, is awarded every five years, on the anniversary of the Universal Declaration of Human Rights and is one of the most prestigious awards in the world. Actually people such as Nelson Mandela, Martin Luther King, Jimmy Carter and institutions like the International Committee of the Red Cross, Amnesty International, the International Commission of Jurists and Human Rights Watch, among others, have been awarded with this distinction.
Justice Franco recalled the important progress made in Mexico in the Human Rights area, and underscored the current implementation of the adversarial system including oral trials.
At the meeting, which was part of his work visit to the UK, from 28th September to 6th October, Justice Franco suggested to Lord Neuberger to explore new mechanisms of cooperation between the two superior courts.
Previously, the Justice from the Mexican Supreme Court participated in the seminar LexMex where he offered a lecture on the "Rule of Law in Mexico", visited the Royal Courts of Justice; met with Lord Faulks, Minister of State for Civil Justice and the Ambassador of Mexico, Diego Gomez-Pickering.
He also participated in meetings with students, academics, lawyers and members of the Mexican Chamber of Commerce in Great Britain (MexCC), to whom he reminded the importance of the constitutional reforms recently enacted in the field of labour law and anti-corruption system.

--oo000oo--