OPENING OF MAYAS: REVELATION OF AN ENDLESS TIME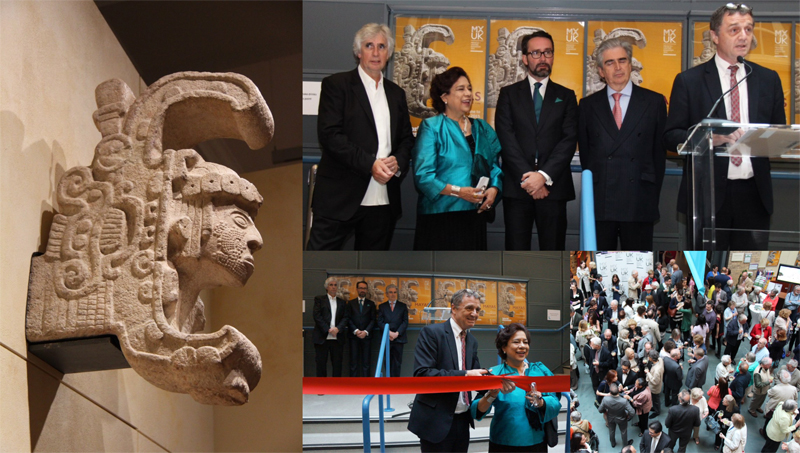 LIVERPOOL, United Kingdom, 18th June 2015.- As the main event of the Year of Mexico in the United Kingdom, the exhibition Mayas: revelation of an endless time opened at the World Museum in Liverpool.
The exhibition, organised by the Mexican National Council for Culture and the Arts (CONACULTA), through the National Institute of Anthropology and History (INAH), is composed of 385 stunning objects of the Mesoamerican civilisation, some of which will be displayed for the first time, due to its recently finding.
The free exhibition will remain open to the public, from tomorrow 19th June and running until 18 October, it allows you to appreciate the splendour of the Mayan culture, in an attempt to share the best of the culture of Mexico, in the United Kingdom as part of the celebration of its Dual Year.
The exhibition, in which Teresa Franco, Director General of INAH, and Ambassador of Mexico in the United Kingdom, Diego Gomez-Pickering participated, consists of a collection of selected pieces from 40 museums and archaeological sites of Mexico include objects that had been recently found as well as older ones, such as two burials with their offerings, dating from the Pre-classic period (2500 BC) to post-classic (1250-1550 AD), found in Balamkú and Jaine island in the Mexican state of Campeche.
During the inauguration, President of CONACULTA, Rafael Tovar y de Teresa, said: "This is a way of reinforcing a multiple vision of Mexican culture in the United Kingdom, which is of great importance for us from a political, commercial, economic and educational point of view, and that surely will have a very positive impact on the country's image".
Steve Judd, Director of World Museum said: "It is a great honour to have Mayas: revelation of an endless time coming to Liverpool. Not only is World Museum the only place you can see the exhibition in the UK, it´s also free entry, making it accessible to all."
From today the World Museum Liverpool will host an exhibition which represents more than three thousand years of history, from eight thematic nuclei that comprise: Man and nature; Human community and everyday life; The Heart of Cities; Man versus Time and the Stars; The ruling elites and historiography; The sacred forces; Man Against Gods: the Rites, and Enter the Path: Funeral Rites, which highlight the aesthetic value of the pieces and address the lifestyles, socio-political structure, historical consciousness, religion and worldview of this millenary culture.
The exhibition is produced by the INAH and is curated by the researcher emeritus of the Centre for Maya Studies of the National Autonomous University of Mexico, Mercedes de la Garza.
In addition to the opening of the exhibition on the website of the World Museum there will be free events, inspired by the Mayan culture, such as seminars, conferences, live performances and family activities were announced.