MEXICO PARTICIPATES IN THE EDINBURGH ART FESTIVAL 2015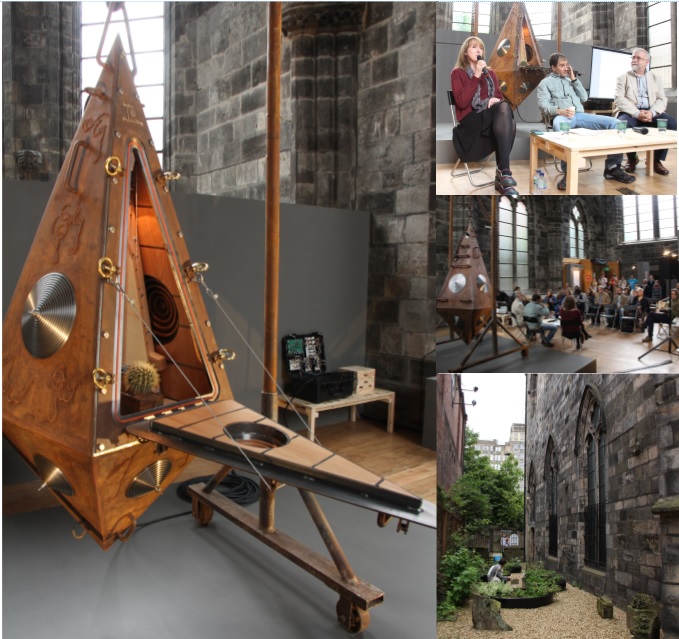 EDINBURGH, Scotland, 3th August 2015.- Mexico participates in the Edinburgh Art Festival, considered one of the most important in the world, with a new commission by Ariel Guzik.
In the framework of the Year of Mexico in the United Kingdom, the artist, musician, illustrator and inventor who has searched for the last two decades for a way to get close and communicate with cetaceans' (whales and dolphins) via underwater instruments, was invited to present his new project which brings him closer to his goal.
Commissioned by The Arts Catalyst, British institution that works with exceptional contemporary artists and scientists, Guzik constructed a beautiful capsule, the Holoturian, designed to send a living plant, with optimum oxygen, temperature and luminosity conditions allowing it to stay alive, at an underwater depth of five atmospheres.
In contrast with the fragility of its interior, the hermetic exterior of the capsule it´s made out of solid iron and no windows, but with quartz medallions which facilitates the approach of the cetaceans –which use its sonar to see- because it generates sounds produced by electrical impulses that are translated and interpreted randomly and continuously from within by a handmade instrument made out of maple and pine wood, which also keeps the plant within.
The Holoturian, which represents Guzik´s progress around cetacean, trough-out multiple underwater expeditions in Mexico (Baja California), Scotland and Costa Rica, was presented at the interior of what it used to be a medieval church part of the Trinity Apse in Edinburgh, built in 1460.
In this way, on 1st August, the artist, accompanied by The Art Catalyst Director, Nicola Triscott and Mark Simmonds OBE, expert in sperm whales, killer whales, vaquita marina and dolphins, explained how his research has boosted in a parallel way an artistic heritage embodied in objects, prints, catalogues and fantastical drawings of his own authorship which main objective is to aware the spectator about the fact that cetaceans and humans are parallel species with whom dialogue is possible.
At the conversation open to the public, Ariel Guzik, director of the Nature Expression and Resonance Research Laboratory in Mexico, referred that the Holutarian capsule emulates a chrysalis, with a living being in its interior, which plays an emissary role, carrying an abstract and sensible message, for the deep ocean creatures.
Ariel Guzik's participation in the Edinburgh Art Festival was supported by Mexican institutions such as the Mexican Agency of International Cooperation for Development (AMEXCID) of the Ministry of Foreign Affairs; the National Council for Culture and the Arts (CONACULTA); the National Institute of Fine Arts (INBA); the Embassy of Mexico in the United Kingdom and The Anglo Mexican Foundation.
--oo00oo--