MEXICAN SECRETARY OF ENERGY AWARDED FOR THE REFORM IMPLEMENTED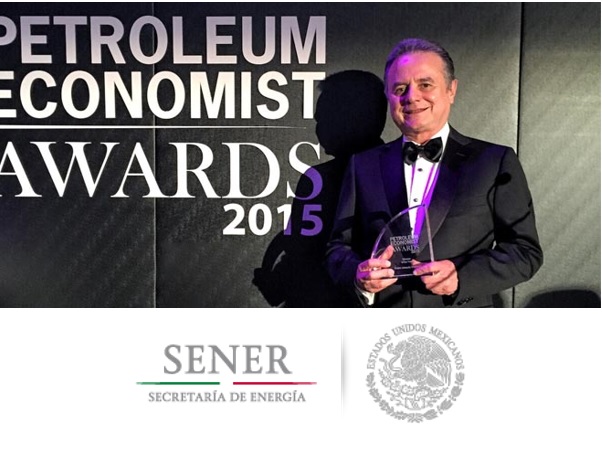 LONDON, United Kingdom, 23rd September 2015.- Mexican Secretary of Energy, Pedro Joaquin Coldwell, was awarded by Petroleum Economist, as the winner of the Minister of the Year 2015, in recognition for his participation so that the energy reform was successfully enacted and implemented in Mexico.
The jury which awarded the winners –on17th September- was integrated by the Secretary General of the OPEC, Dr. Abdalla El-Badri; Executive Director of  the International Energy Agency (IEA), which is part of the OECD, Faith Birol; former Secretary General of the International Gas Union, Torstein Indrebo; as well as the entrepreneur Malcom Graham-Wood, founder of HydroCarbon Capital.
During his speech, the Head of the Secretariat of Energy (SENER), said the courage and boldness of President Enrique Peña Nieto and members of Congress, made possible the change of energy paradigm in Mexico.

Secretary Pedro Joaquin Coldwell said that the reform aims to foster a new relationship between Mexicans and energy and to provide higher standards of welfare for the population, so that official representatives of SENER are working in this direction.
The nominees for this award were the Minister of Natural Resources of Canada, Greg Rickford; Ministry of Energy from Trinidad and Tobago, Nicole Olivierre; and former Minister of Petroleum and Mineral Resources, Sherif Ismail Mohamed.

As part of his work-visit, Lawyer Pedro Joaquin Coldwell met Fiona Woolf, Partner at CMS Cameron-McKenna, consulting firm based in London, specialised in electricity and energy issues, as well as with CEO's and Directors of oil companies based in London.


--oo000oo--