MEXICO'S NAFINSA AND UK GREEN INVESTMENT BANK SIGN MoU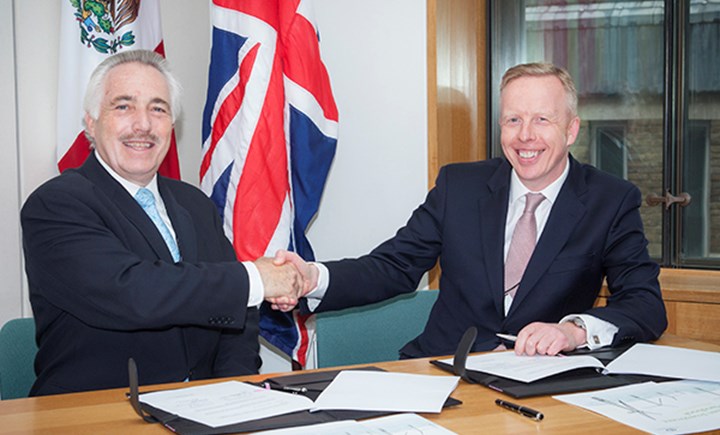 LONDON, United Kingdom, 9th October 2015.- NAFINSA a Development Banking Institution in Mexico and UK Green Investment Bank (GIB) signed a Memorandum of Understanding on 7th October in order to share knowledge and best practice on green finance, renewable energy and energy efficiency projects.
The welcome message as well as the signing was hosted by Robert Capurro, Director of Canning House, who personally introduced the directors of both financial institutions, Jacques Rogozinski, General Director of NAFINSA, and Shaun Kingsbury, Chief Executive of UK Green Investment Bank.
Mr. Rogozinski, said that he is pleased to have formalised their relationship, and that the MoU will have a significant green impact in both countries, and so he hopes that this will increase green investments not only in Mexico, but also in Latin America and the Caribbean. For the British side, Mr. Kingsbury highlighted that GIB is delighted to be partnering with NAFIN to exchange experience and ideas. There is much that the UK and Mexico stands to learns from one another, the Green Investment Handbook will play a central role in the relationship as we work together to increase green infrastructure investment in their respective countries and beyond.
The partnership underlines Mexico's efforts to boost sustainable development, and the role NAFIN is playing in fostering and financing sustainable projects across the country, as well as GIB's commitment to share its market-leading experience in green investment.
GIB was created by the UK Government, its mission is to accelerate the UK's transition to a greener economy, and to create an enduring institution, operating independently of Government. NAFIN is a Mexican financial institution which aim is to support the development of micro, small and medium sized companies in Mexico. It is also a mandated by the government to finance priority and sustainable projects of the federal government.
Under the memorandum signing ceremony in Portcullis House, at the Parliament, the directors of both banks presented that the Handbook is now available in world's three most commonly spoken languages, this aims to share experiences and encourage debate on how to evaluate, monitor and report on environmental financing. Reaching the Hispanic community in Latin America and the Caribbean, GIB and NAFIN hope to invite the institutions to invest in adaptation projects and mitigating climate change.
The ceremony was attended by 40 guests, including experts in climate change, finance, students and representatives of the FCO.


--oo00oo—