WORKING VISIT OF PRESIDENT ENRIQUE PEÑA NIETO TO THE UNITED KINGDOM
18th of June 2013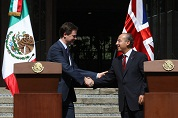 President of Mexico Enrique Peña Nieto held a bilateral meeting with Deputy Prime Minister Nick Clegg yesterday.
The Head of the Mexican Executive expressed his Government´s interest in promoting a strategic bilateral relation, through enhancing cooperation on global issues such as human rights, the fight against poverty and hunger, as well as through educational and business exchange.
On Tuesday 18th, President Peña Nieto travelled to Lough Erne, Northern Ireland -host of the G8´s Leaders' Summit- where he discussed with the leaders of the world´s largest economies, as well as with representatives of the World Bank, the International Monetary Fund, the European Union and a small number of guest countries.
In addition to taking part in a working session of the G8, President Peña Nieto headed a meeting with leading figures from the UK´s business and banking sectors, with whom he discussed the positive perception for investment in Mexico and ways of how to boost the bilateral commercial exchange, so that it best reflects the country´s great economic potential.
Moreover, President Peña Nieto will give a conference at Chatham House, one of the most important think tanks that gathers world leaders and experts on various global challenges.