AMBASSADOR MEDINA MORA BESTOWS NEIL MACGREGOR WITH THE ORDER OF THE AZTEC EAGLE
06 Apr 2011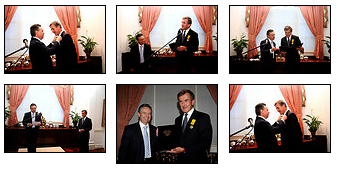 On behalf of the Government of Mexico, Ambassador Eduardo Medina Mora recognised the career of Neil MacGregor by conferring on him the Order of the Aztec Eagle. MacGregor has distinguished himself by his brilliant and sustained contribution to the study and promotion of Mexican culture in the United Kingdom.
As an outstanding academic and Director of the British Museum, Neil MacGregor has supported important exhibitions such as "Montezuma: Aztec Ruler" and "Revolution on Paper: Mexican Prints 1910-1960". In this manner he has led the way in capturing the imagination of not only the British public but of people around the world, as well as establishing a close relationship between the museum and Mexican culture. The award ceremony was held at the Residence of the Mexican Ambassador in London and was attended by academics and representatives from cultural institutions such as the British Museum, representatives from Mexican businesses as well as officials from the Embassy of Mexico in the United Kingdom.
During his address to the invitees, Ambassador Medina Mora thanked MacGregor on behalf of the Mexican government for the role he has played in raising the profile of Mexico's most cherished cultural values.