OFFICIAL VISIT OF MINISTER OF PUBLIC EDUCATION ALONSO LUJAMBIO
15 Apr 2011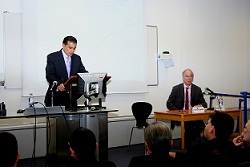 The Minister for Public Education, Alonso Lujambio Irazábal made an official visit to London from 22nd to 24th March.
The Minister's programme of activities was coordinated by the British Council and included meetings with representatives of British educational institutions with the aim of identifying areas for bilateral cooperation. In a similar vein, Minister Lujambio met with officials from the British Council and the Ministry of Business, Innovation and Skills to discuss training programmes for Mexican teachers in the teaching of English in primary schools. Also on the agenda was the development of links between Mexico's higher education system and its economy. In addition, Minister Lujambio met with representatives from the University of London's Institute of Education to evaluate the progress of the Project for National Curriculum Standards in Basic Education in Mexico.
Minister Lujambio also participated in the presentation of the British Council's "Climate for Classrooms" project. The programme includes a virtual classroom in which students from China, Mexico, Indonesia, Bangladesh and the United Kingdom exchange views on the effects of climate change and suggest ways to prevent environmental deterioration. The presentation included a video which featured the first contributions which Mexican students have made to the project. The Minister then registered as a member on the "Climate for Classrooms" website.
As part of Mexico Week at the London School of Economics, Minister Lujambio held a conference on 24th March concerning the challenges facing Mexico's education system. In his presentation he mentioned the advances made as well as the challenges remaining in Mexico's educational sector. He specifically highlighted the positive effect of evaluative procedures such as the "Enlace" (National Evaluation of Academic Achievement in Schools) test. As a result of this test, financial incentives were awarded to 250, 000 teachers on the basis of their performance in the classroom. On the other hand, he pointed out that the greatest challenge facing Mexico's education system is increasing its quality at all levels from pre-school to higher education.