AMBASSADOR EDUARDO MEDINA MORA ATTENDS MEETING WITH THE CAMBRIDGE UNIVERSITY MEXICAN SOCIETY
07 Apr 2011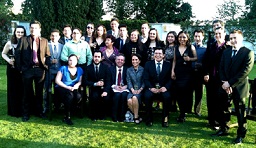 The Ambassador of Mexico in the United Kingdom, Eduardo Medina Mora, attended a meeting –alongside his wife, Laura de Medina Mora- with several prominent academics from the University of Cambridge that have shown a particular interest in Mexico throughout their careers.
Ambassador Medina Mora gave a speech in which he described a new vision of the world, now defined under the concept of "openness", shared by Mexico and the UK, which is why both nations are fully convinced that multilateralism is the correct way of dealing with the risks of globalization. Afterwards, Ambassador Medina Mora held a Q&A session, in which a vast and diverse array subjects relating to Mexico were discussed.
Finally, the guests were invited to a dinner in which the main subject of the reunion provoked multiple dialogues boarding several issues. The meeting was organized by the Cambridge University Mexican Society, with assistance by Clare Hall College and had the participation of Sir Martin Harris, President of Clare Hall and the eminent historian Professor David Brading.