"FROM CACAO TO CHOCOLATE" CONFERENCE IN LONDON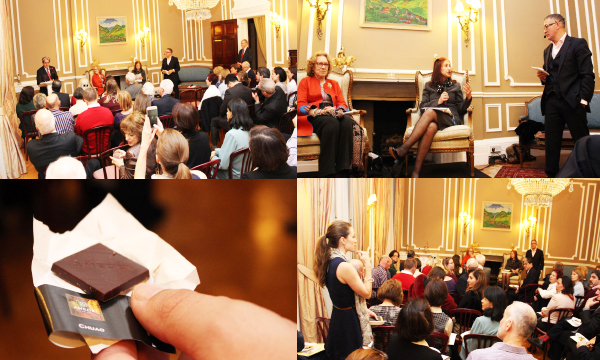 LONDON, United Kingdom, 30th November 2016.- In order to share amongst different British audiences a more profound knowledge about the history and culture of Mexico, recently the event entitled "From Cacao to Chocolate" took place on 23rd November, including a discussion panel and tastings of traditional food and beverage.
At the official residence of the government of Mexico, Minister David Najera, Chargé d' Affaires of the Embassy of Mexico, welcomed the guests, to whom he recalled the importance of the historic "Xocolatl" as a culinary element linked to our heritage and as one of the most important gastronomic elements which Mexico contributed to the world.
Organised by Manuel Diaz Cebrian, representative of Los Cabos, and Richard Maudslay, President of the British Mexican Society, the event began with a historic summary about the origins of chocolate, upon the harvesting of cacao, introduced by Doctor Elizabeth Baquedano, Professor at the Faculty of Social & Historical Sciences at University College London (UCL), who is known for her connection with different British museums –as specialist in pre-Hispanic cultures- and as author of a book about the Aztec, Inca and Maya civilisations.
Baquedano referred about the use of cacao in rituals and commemoration events of the Maya civilisation, due to its medicinal and stimulant characteristics, as well as its use as trade currency, during the Aztec empire.
The same panel had the participation of Sara Jane Stanes, Chief Executive of the Royal Academy of Culinary Arts and Director of the Chocolate Academy, who also conducted the tasting of 7 different kind of chocolates, including one elaborated with authentic Mexican cacao, as well as other produced by international companies such as Michael Cluizel of France and Amedei of Italy.
As it is a plant endemic from Mexico, the national production of high quality cacao its very limited, nonetheless the appreciation for high-quality chocolate allows that the selected production has an increasing demand on the market. Thus, that night was especially recognised the set of cultural expressions with which Mexico was projected.
The attendees, amongst who was Tim Eccot, journalist and author of a book about vanilla; Coco Elle, from the company Love Your Chocolate, and Jennifer Earle, from Chocolate Ecstasy Tours and Chocolate Lovers, had the chance to get to know some of the characteristics of the chocolate produced nowadays, such as blending and fermentation, as well as remarkable qualities of the product which has more than 400 aromas.
At the end of the session the guests had the opportunity to taste cocktails prepared with tequila La Hora Azul and traditional food snacks made by the Chef Carlos Macias from Chilango restaurants, which were sponsored by Mexican the touristic destination Los Cabos. That allowed to experience the Mexican gastronomy.
---oo00oo---