EL COLEGIO DE MEXICO PROMOTES ACADEMIC TIES WITH THE UK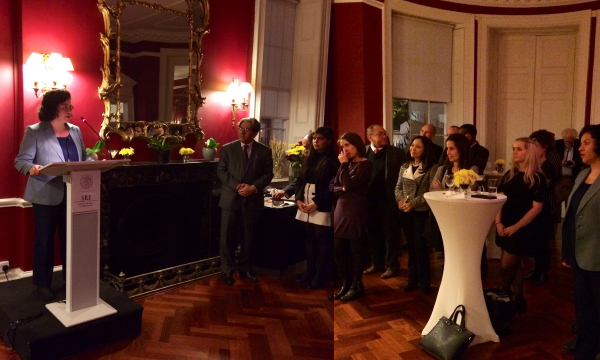 LONDON, United Kingdom, 8th November 2016.- A delegation from the Centre of Studies for Asia and Africa (CEAA, for its acronym in Spanish) of El Colegio de Mexico (COLMEX) achieved a working visit to the United Kingdom, from 2nd - 4th November 2016, in order to strengthen ties of academic cooperation with between Mexico and the UK.
The group of academics visited "The School of Oriental and African Studies (SOAS)" of the University of London, with the main objective of promoting an institutional relationship and begin a new academic exchange between both specialised centres of studies.
The working visit included meetings with representatives of the British Museum and the Chatham House Royal Institute of International Affairs, one of the most prestigious think-tanks worldwide, hosting experts, world leaders and scholars dedicated to the study of diplomatic relations and global challenges.
Accompanied by researchers and scholars, the General Academic Coordinator, Prof. Laura Flamand and Professor Amaury Garcia, Director of CEAA –who led the Mexican delegation- held meetings with different British representatives, amongst them Prof. Richard Black and Dr. Chegue Githiora of SOAS, highlighting the institutionalisation of the academic exchange between both higher education institutions.
Minister David Najera, Acting Ambassador at the Embassy of Mexico in the UK, participated in the opening of the different encounters and referred the importance if the academic cooperation between institutions of Mexico and the United Kingdom.
During a reception at the Official Residence of Mexico, on 3rd November which was attended by representatives of investigation centres such as "Royal United Services Institute (RUSI)" and "The International Institute for Strategic Studies (IISS)", as well as Mexican alumni, Najera recalled that the UK has surpassed the United States as the first destination worldwide for Mexicans studying a post-graduate.
---oo00oo---