ENRIQUE DE LA MADRID IN A WORKIG VISIT TO EUROPE TO PROMOTE TOURISM TO MEXICO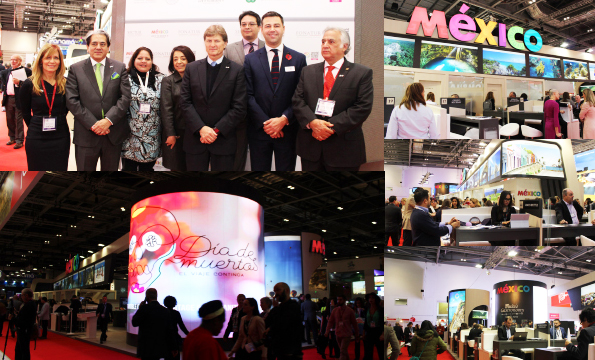 LONDON, United Kingdom, 7th November 2016.- The Mexican Secretary of Tourism (SECTUR, for its acronym in Spanish), Enrique de la Madrid, is in a working visit through-out England where he will meet with entrepreneurs, tour-operators and representatives of the tourism industry, in order to attract more tourists and explained them the economic importance of that sector and the advantages of investing in Mexico.
The head of SECTUR will begin his working agenda in London where he will attend the World Travel Market (WTM), one of the most relevant tourism fairs in Europe, in which Mexico will exhibit in a pavilion its vast and diverse touristic offer.
Secretary De la Madrid cut the ribbon in the opening  of the pavilion of Mexico accompanied by Minister David Najera, Acting Ambassador at the Embassy of Mexico, as well as by the Secretary of Tourism of Mexico City, Miguel Torruco. During a tour around the pavilion, they checked that 85 Mexican tourism companies gathered in the pavilion. The Mexican gastronomy higjlights amongst the new elements to promote out country as destination, element which adds to the vast variaty Mexico has to offer to foreign tourists.
It is noteworthy to mention that in the WTM more than 300,000 business meetings take place gathering 9,000 buyers worldwide.
Afterwards, De la Madrid Cordero will hold meetings with John Tacker, Vice President of Sourcing GTA; Garry Wilson, Managing Director at Group Product & Purchasing TUI Group and with Richard Salomon, CEO of IHG.
Likewise, the Mexican Secretary will meet with British as well as Mexican entrepreneurs and investors of the tourism industry, to whom he will express the economic impact of tourism in Mexico.
As part of his European working visit, the Mexican Secretary of Tourism will participate in the Investment Forum organised by the Financial Times. Likewise, he will meet with the British Minister of Culture, Sport and Tourism, Tracy Crouch, in order to exchange points of view about the performance of the industry in both countries.
It is noteworthy to mention that the working visit of the head of SECTUR has as fundamental objective to attract a major number of global visitors to Mexico to consolidate even more the tourism activity which currently is the third source of income to our country.
---oo000oo---