AEROMEXICO FLIES TO LONDON WITH THE NEW BOEING 787-9 DREAMLINER "QUETZALCOATL"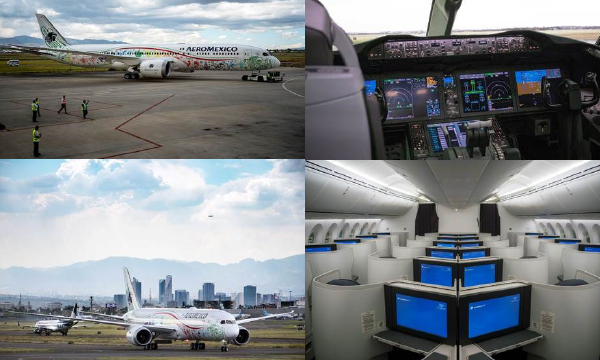 ·         Aeromexico will offer starting from April 2017 daily flights from Heathrow Aiport to Mexico City. 
LONDON, United Kingdom, 6th November 2016.- The first Boeing 787-9 Dreamliner of Aeromexico, also known as "Quetzalcoatl" landed in Heathrow airport, on Sunday afternoon at 4:00 PM.
The transatlantic inauguration flight, in the frequency Mexico City-London, had the Mexican Secretary of Tourism (SECTUR, for its acronym in Spanish), Enrique de la Madrid Cordero on board, who will be on a working-visit to the capital city of the United Kingdom to participate in the World Travel Market in order to promote an increase in the number of British citizens to Mexico, which could surpass 520,000 by the end of the year.
The head of SECTUR traveled on the new aircraft –considered the "Ambassador" of Mexico due to its decoration, which combines traditional, historic and contemporary elements- accompanied by the Director General of the Mexican Tourism Board  (CPTM, for its acronym in Spanish), Lourdes Berho, as well as the Sales Vice President of Aeromexico Jorge Goytortúa and Under Secretary of Planning and Touristic Policy of SECTUR, who were received at Heathrow by Minister David Najera, Acting Ambassador at the Embassy of Mexico in the United Kingdom.
With the incorporation of this aircraft to its fleet, Aeromexico will offer from April 2017 daily flights from Heathrow Airport to Mexico City, contributing to the increase of its seat capacity in the route, and at the same time, reducing fuel consumption by 23% and 20% in carbon dioxide emissions.
Likewise, the Mexican company confirmed that the outbound flight to Mexico City will be night-time, allowing the passengers to connect with 45 different destinations in Mexico, 75 in North, Central and South America, as well as with 34 more.
With 274 seats –thirty six 180-degree flat-bed seats in Clase Premier with touchscreens and WiFi, amongst other new features, the Mexican airline offers better on-board conditions to satisfy the increasing demand in the route Mexico City-London.
It is noteworthy to mention that Mexico is the 9th most visited country in the world, surpassing 32.1 million of tourists in 2015. Only last year more than 477,000 British citizens visited Mexico and this year will have a 9.3% of increase maintaining the UK as the third most important touristic market for Mexico and the largest in Europe.
Efforts like Aeromexico's contribute to increase the number of Britons travelling to Mexico, as well as the number of Mexicans going to the UK.
---oo00oo---