MEXICAN AWARDED FOR SECOND OCCASION AS 'WILDLIFE PHOTOGRAPHER OF THE YEAR'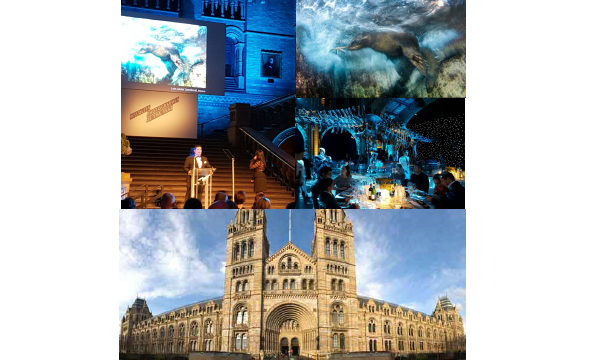 LONDON, United Kingdom, 19th October 2016.- Mexican photographer Luis Javier Sandoval, took for the second occasion the award 'Wildlife Photographer of the Year', organised by the Natural History Museum of London, considered as the most important in the world for environmental conservation, with more than fifty thousand images from 95 countries.
The artistic image of a young sea lion playing with a starfish, taken at the Espiritu Santo Island in the Sea of Cortes in Baja California, was named winner of the first place in the "Impression" category and will be on display at the Natural History Museum in London from 21st October, before touring internationally.
During the award ceremony, which had coverage by British media such as BBC, the photographer from the Mexican state of Quintana Roo emphasised in his speech the importance of international cooperation to guarantee the preservation of sea life species, which are mostly endangered; mentioning how fishermen in the Mexican Caribbean had reconverted their economic activity to touristic services, making them protectors and promoters of the sea life and referred that his winner photograph shows that Mexico is a country of dedicated and talented young people, regardless the discriminatory speech of the Republican candidate for President of the U.S., Donald Trump.
David Najera, Acting Ambassador of the Embassy of Mexico, congratulated the Mexican artist for his passion towards nature and for being an outstanding Mexican underwater photographer, whose work has had recognition in Mexico, Africa and Europe. Representatives from the Museum shared with joy the triumph and expressed their interest for this photographic exhibition to be showcased in Mexico.
According with the Natural History Museum, this was the most competitive edition of the contest in its 52 years of history, and the jury appreciated not only the passion, the artistic impression and the complex technic of Sandoval's image, which captured a curious young sea lion playing with its fore-flippers with a starfish, just below the sea-waves towards the dawn light.
It is noteworthy to recall that Sandoval was awarded in October 2013 the 1st place of the global competition in the category 'Cold Blooded Aquatic Animals', with an image of a green sea turtle which inhabits in Cancun, Quintana Roo, and is also an endangered species, you can appreciate the photograph in this website: http://bit.ly/2eqgTAJ.
Back then the photographer visited the Embassy in order to share his experience in the competition and signed an official HD copy of the photograph, which was selected by the Natural History Museum amongst 48,000 professional images from 98 countries and which is currently in permanent exhibition for the people visiting this diplomatic representation, will now be joined by this second photograph.
Additionally Sandoval has been winner of other international competitions and has collaborated with international imagery agencies such as Getty.
---oo000oo---