ARTISTS FROM THE MEXICAN STATE OF OAXACA EXHIBIT IN THE UK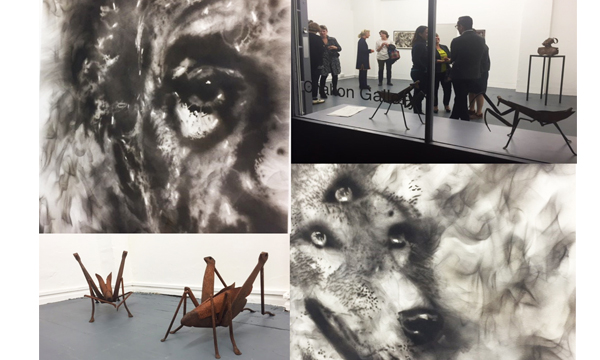 LONDON, United Kingdom, 18th October 2016.- The Chalton Gallery in coordination with the Embassy of Mexico in the United Kingdom, presents the exhibition entitled "Firerust", by the artists from the Mexican state of Oaxaca Mario Castellanos and Sabino Guisu.
Castellanos and Guisu –who frequently participate in joint projects- are exhibiting together for the first time in Europe 'Firerust', which explores the animalist theme, both wild and mythical.
Mario, the sculptor, uses scrap metal for his work, as well as acids to create paintings in rust. Castellanos is interested in the tactile qualities of his material; taking a hard cold piece of metal "bringing it to life" by "softening it with heat and hands" then moulding it into organic forms.
Sabino Guisu comes from a long line of craftsmen and was mentored by the prestigious artist and philanthropist Francisco Toledo. He is famous for using the technic known as 'fumage', which consists in using smoke to create his bold images, for what he calls 'smoke paintings'.
It is noteworthy to mention that Mario Castellanos won a scholarship to participate in the artistic residence "First Food", celebrated in 2015 in the framework of the cultural programme of the Year of Mexico in the United Kingdom and coordinated by Antonia Bruce, to bring the opportunity to young artists to exhibit their work in Europe.
"Firerust" will be exhibiting open to the public and free of charge until 22nd October, at the Chalton Gallery, which has recently also exhibited pieces by emerging Mexican artists.
---oo000oo---