JUSTICE COOPERATION BETWEEN MEXICO AND THE UK MOVES FORWARD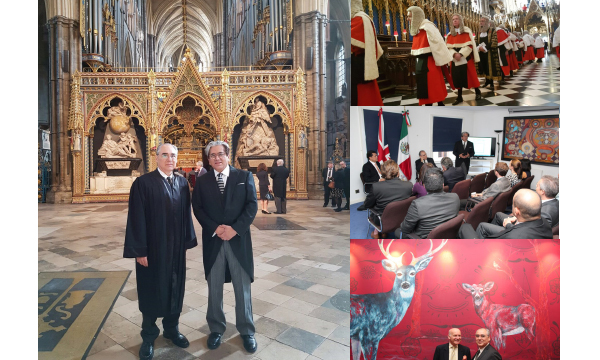 LONDON, United Kingdom, 4th October 2016.- Representing the Mexican Supreme Court of Justice (SCJN, for its acronym in Spanish), Justice José Fernando Franco González-Salas attended the opening of the Legal Year in the United Kingdom and held meetings with members of the Royal Courts of Justice and the The Supreme Court of the United Kingdom, in order to continue with the dialogue and cooperation in the framework of the application of the penal adversarial accusatorial system, adopted in Mexico with the oral proceedings.
The Justice of SCJN met yesterday with Lord Hughes, Justice of the Supreme Court of the UK, with whom he talked about future forms of cooperation in areas of training and exchange of experiences, as well as the progress of the new penal system adopted in Mexico, through which, both the accusatorial part as well as the defence, generate a confrontation of evidence and arguments in an oral debate, in the presence of a judge.
Previously, Justice Franco participated in a meeting at The Law Society followed by the formal Opening of the Legal Year at the Palace of Westminster and a service at Westminster Abbey, accompanied by Minister David Najera, Acting Ambassador of the Embassy of Mexico in the UK. The meeting contributed to reaffirm the mutual interest of the Supreme Courts of both countries to collaborate together, as it was commented with Liz Truss, Lord Chancellor and Secretary of State for Justice.
Yesterday's afternoon at the Embassy, Justice Franco had the opportunity to dialogue with a group of Mexican students about the challenges which our country faces in the application of law and the respect of human rights.
Likewise, as part of his working-visit to the UK, from 29th September -3rd October, the Justice Franco interviewed with Justice Haddon-Cave, President of the International Committee; Lady Justice Arden, Judge at the Appeal Court, as well as with Judges Joanna Korner and Mark Ockelton, in charge of the area of International Courses of the Royal Courts of Justice.
Likewise on Thursday 29th September, Justice Franco of the SCJN offered a conference about the new penal system in Mexico at The Law Society.   
---oo000oo---