EMBASSY OF MEXICO CONTRIBUTES TO EFFORTS IN RESEARCH ON MENTAL ILLNESSES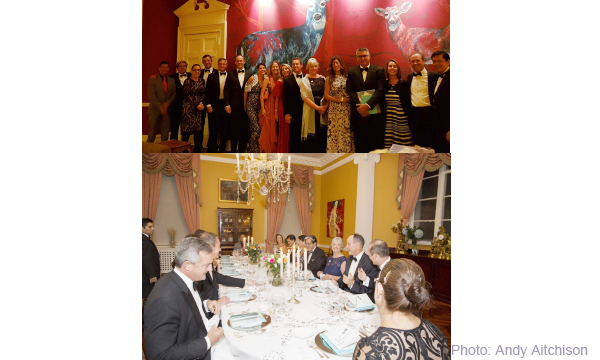 LONDON, 26th September, 2016.- On 21st September the Embassy of Mexico in the United Kingdom joined 17 other embassies in this country, supporting the initiative of the organizations 'Dementia UK' and 'UK Alzheimer's Society' for fundraising research projects of dementia and Alzheimer's.
The contribution of 18 embassies of different countries, including Mexico Germany, Canada, France, Kuwait and Turkey, consisted in organising a dinner at the official residences of every diplomatic mission for those people registered 2016 Alzheimer's Ball organized by 'Dementia UK' & 'UK Alzheimer's Society'.
CEO's and executive representatives of private companies attended to the gala dinner hosted by the Embassy of Mexico, as well as representatives of British organizations, and two prominent Mexican psychologists currently participating in the Mental Health Hub, a ​virtual project through which the Mexican community in this country (or anyone who enters the website of the Consular Seccion of the Embassy of Mexico can access online information and even a video on institutions and non-profit organizations on mental health which offer services -free of charge- for those people who came to live to this country and might face situations like depression, anxiety or loneliness, to name a few.
In his speech, Minister David Najera, Acting Ambassador of Mexico, ​​stressed that initiatives like these are valuable since they help raise funds for the care and research of critical illnesses and to raise awareness of the importance for guide collective efforts finding cures for such diseases, currently affecting more than 800,000 Mexicans.
According to projections by the World Health Organization, by 2050 around 3.5 million Mexican nationals would suffer Alzheimer. In this regard, Mexico has supported the inclusion of the issue of mental health as one of the Millennium Development Goals of the UN.
According to the organizations 'Dementia UK' & 'UK Alzheimer's Society', the participation of embassies in the 2016 event contributed to the collection of £240,000 in just one night (equivalent to more than 6 million Mexican pesos).
---oo000oo--