MEXICO NATIONAL INDEPENDENCE DAY CELEBRATED IN THE UNITED KINGDOM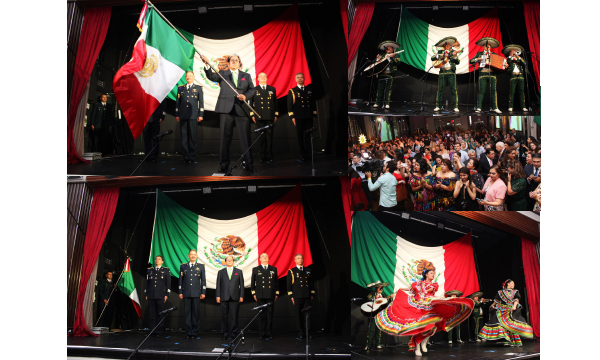 LONDON, United Kingdom, 15th September 2015. - Minister David Najera, acting Ambassador of Mexico, will lead at Victoria House the ceremony to commemorate the CCVI Anniversary of the Independence of Mexico.
In the framework of the event for the Mexican community organised by Mestizo Restaurant to which the Embassy of Mexico contributed enthusiastically, the diplomat will give the traditional speech to describe the great event in Mexican history regarding its Independence which started with the cry: "Mexicans, live the heroes that gave us Homeland and Freedom. Viva Hidalgo. Viva Morelos. Viva Josefa Ortiz de Domínguez. Viva Allende. Viva Aldama. Vivan Matamoros and Galeana. Viva Guerrero. Viva la Independencia Nacional. Viva Mexico. Viva Mexico. Viva Mexico! ".
Participants will respond in unison the call for Independence: Viva Mexico! and immediately after that will sing the Mexican National Anthem, prior to which, the National Flag will be honoured by all Mexican nationals. The diplomat will be accompanied by General Emilio Avendaño, Military Attaché in representation of the Mexican Secretariat of National Defence.
Previously, in which will be a celebration to Mexican culture, community diplomats, legislators, representatives of the private sector, academics and representatives of different countries who will attend as guests, will have the opportunity to listen to the Mexican guitarist Morgan Szymanski, who recently played at the Wigmore Hall in London, as part of a concert series organised by the BBC.
In this context, on a giant screen different videos of Mexico will be shared to remember the touristic and productive potential of our country, whilst the evening is enlivened with Mexican music, and a live interpretation of classic mariachi songs, whilst the public is tasting authentic Mexican food and drinks.
In addition Hortensia Celis, host of the radio program Hecho en México for the Mexican community and the promotion of cultural events, will present a musical number, in his role as founder of one of the folkloric ballets of Mexico in the UK, and her show will be followed by the live presentation of the percussionist Jansen Igor and the saxophonist Rob Mack.
---oo000oo---