MEXICO PROPOSES A BINATIONAL CITY AT THE LONDON DESIGN BIENNALE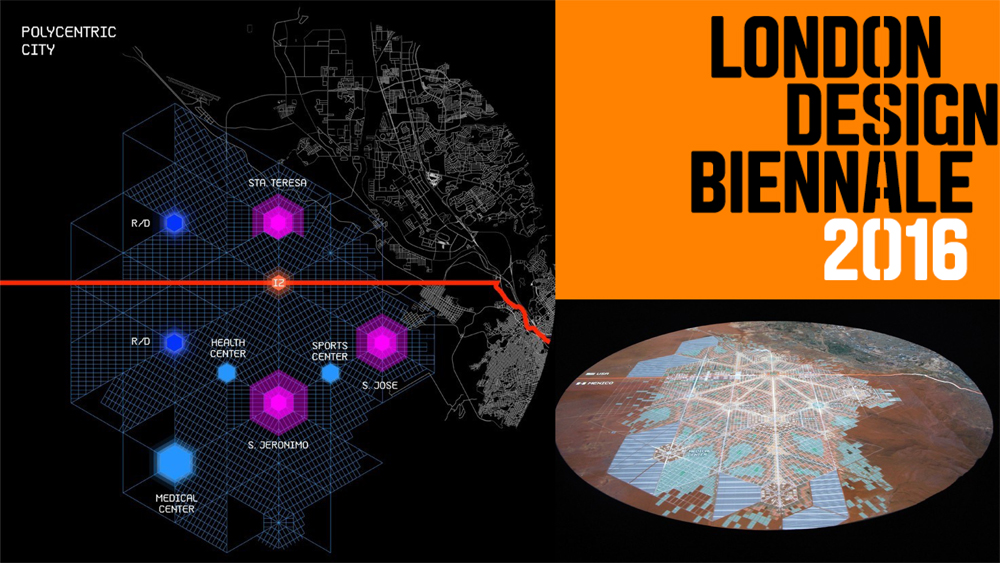 LONDON, United Kingdom, 8th September 2016. - Mexico participates at the London Design Biennale  along with over 30 countries and territories with the theme "Utopia by Design", with an innovative concept of a binational city on the border, between the United States and Mexico.
In the interactive pavilion of Mexico, on display from 7th to 27th September at Somerset House, Mexican architect Fernando Romero –author of the Soumaya Museum project and collaborator along with Sir Norman Foster in the design of the New Mexico City International Airport- presented the first prototype of a versatile and sustainable binational city, in the communities of San Jose and San Jeronimo in Chihuahua and Santa Teresa, in New Mexico.
The design encompasses an hexagonal "border city" which could be seen in this link: http://bit.ly/2cjwYcJ. It represents the idea of places where frontiers join, cities where cultures entwine and clash. The 'border city' concept looks at providing an urban space where its inhabitants can flourish overcoming some of the most paramount issues that face our present world, such as; pollution, over-crowding and migration.
Official information and statistics from institutions of Mexico and the United States which is displayed in the walls of the pavilion shows that the prototype goes beyond an aesthetic design. The proposal is a case study of how design is an instrumental tool to develop healthier and smarter cities as populations grow, migration increases, and economies continue to globalise.
Regarding the first London Design Biennale at Somerset House Mexico stands in a privileged position with a contemporary design engaging innovation, investigation an creativity and which shows how from an existing centre, the cities of Santa Teresa in New Mexico, as well as San Jose and San Jeronimo, in Chihuahua, can blend in a single community, standing at both sides of the border.
To explain Romero's visual project, a conference entitled "Binational City: a vision of the border between Mexico and the United States" will be held tomorrow. Tickets to the event can be bought in this website http://bit.ly/2cjylIo.
The pavilion of Mexico is brought to the London Design Biennale with the collaboration of the Government of Mexico through the Mexican Agency of International Cooperation for Development (AMEXCID, for its acronym in Spanish) of the Mexican Secretariat of Foreign Affairs and the Mexican Secretariat of Culture, as well as HSBC and Shell.
--oo00oo--