TALKS BETWEEN PRESIDENT OF MEXICO AND PRIME MINISTER ON BREXIT AND A NEW FREE TRADE AGREEMENT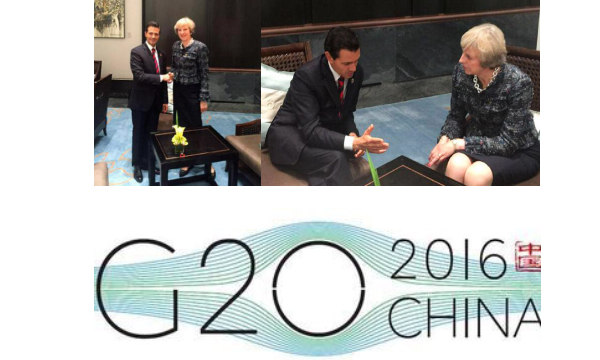 HANGZHOU, China, 7th September 2016. - President Enrique Peña Nieto met with Prime Minister Theresa May to discuss a new free trade agreement with Mexico, once the Brexit takes place.
"I expressed interest - and I think it was shared with her - that once the United Kingdom defines the process to separate itself from the European Union, we could establish a new bilateral relationship in order to build a free trade agreement," said President Peña Nieto to media representatives.
As part of his working schedule, in the framework of G20 summit, which brought together on 4-5 September the leaders of the 20 largest economies in the world, President Peña Nieto held his first bilateral meeting with the Prime Minister Theresa May to whom he expressed his interest in maintaining the route of agreements with the UK, as two of the most opened economies worldwide and keeping their interest to increase the bilateral trade between the two countries.
"Once the UK leaves the European Union, obviously our interest is to build as soon as possible a free trade agreement with the United Kingdom, a project that was shared and widely spoken with Prime Minister Theresa May", Peña Nieto mentioned.
He said that he understood the priorities of the new Government of the United Kingdom to accomplish the process involving Brexit at a global stage, so he expressed the interest of Mexico to build a new trade agreement, because the current works within the framework of free trade agreement with the European Union.
The UK remains as the 5th largest trading partner of Mexico in Europe and represents the third largest market for tourism to our country.

Since the United Kingdom distinguished itself as the first European nation to recognize the independence of Mexico and establish trade relations, both countries have been promoting their economic growth and improving the welfare of their populations.

Proof of this is that, since the entry into force of the Free Trade Agreement between the European Union and Mexico, in 2000, trade between the UK and our country has grown 153 percent.
Another example of the growing interest in the opportunities Mexico offers is the operation of more than 400 thousand companies with British investment, especially in the financial, mining and manufacturing sectors.
---oo000oo---