MEXICO PROMOTES INVESTMENT IN THE AEROSPACE INDUSTRY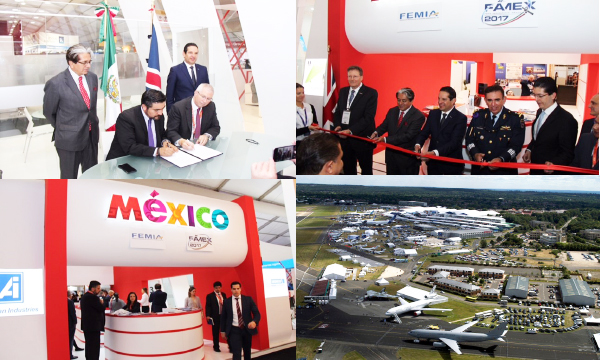 FARNBOROUGH, England, 11th July 2016.- Mexico participates in the Farnborough International Airshow 2016, ranked as one of the most important trade fairs in the sector worldwide, in order to promote investment opportunities and the potential of the Mexican companies to integrate as global aerospace industry suppliers.
In this event –which every two years attracts potential investors and representatives from 1,500 companies leaders in this industry- ProMexico will have a pavilion which  include 20 companies and the representation of Mexican states such as Queretaro, Nuevo Leon and Baja California, which have been receiving important investments and had integrated global valuable franchises, related to the aerospace industry.
On this basis, the Director General of ProMexico, Francisco N. Gonzalez, led the meetings with British businessmen that have plans to invest in Mexico and facilitated meetings between them and representatives of Mexican companies, to promote their exports and to develop suppliers.
The Governors of the Mexican states Queretaro and Baja California, Francisco Dominguez and Francisco Arturo Vega de Lamadrid, respectively, participated in this meetings and also explained how the aerospace industry has been developing in those states, offering an endless number of advantages for the development of international industry.
It is noteworthy to mention that in the particular case of Queretaro, there had been developing training and vocational projects which had been developed, such as the Aerospace Network for Research and Innovation as well as the Aeronautical University, in which the human capital required by this industry is prepared.
In the framework of the Farnborough International Airshow 2016, in which it is expected an influx of 200,000 visitors, an academic cooperation was signed between National Aerospace University of Queretaro and the University of Cranfield, as the only academic institution in the UK exclusively dedicated to post-graduate degrees, well-known in areas such as aerospace manufacture, security and industry, which headquarters include an airport.  
Likewise, David Najera Rivas, Charge d' affaires at the Embassy of Mexico in the United Kingdom, led the opening of the pavilion of Mexico, in company of Benito Gritzewsky, President of the Mexican Federation of the Aerospace Industry (FEMIA, for its acronym in Spanish), and Carlos Sanchez Pavon, Regional Director of ProMéxico for Europe and Africa.
Hence the diplomat referred that Mexico has taken the next step in the consolidation of the aerospace sector, as it has ceased to be merely a manufacturing hub, by incorporating innovation and technological development.
In the same Pavilion of Mexico, Brigadier General Rodolfo Rodriguez Quezada, announced that the Aerospace Fair (FAMEX) will take place in Mexico in 2017.
About ProMexico.- It is the Mexican institution that promotes the attraction of direct foreign investment and the export of goods and services, as well as the internationalisation of Mexican companies in order to contribute to Mexico's economic and social development and strengthen the country's image as a strategic business partner. For more information: www.promexico.gob.mx 
---oo000oo---