BENEFITS OF THE PACIFIC ALLIANCE HIGHLIGHTED AT THE UNIVERSITY OF OXFORD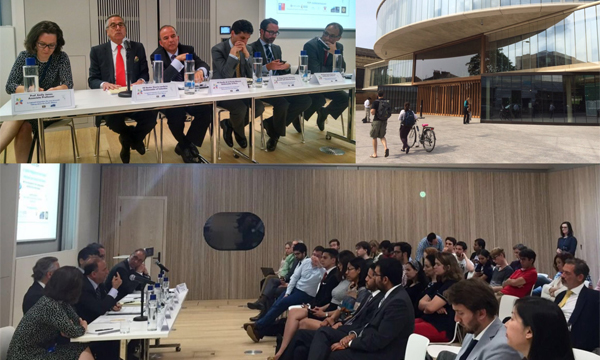 OXFORD, England, 10th June 2016.- The Ambassador of Mexico Diego Gomez-Pickering participated yesterday in a round table organised by Blavatnik School of Government of the University of Oxford, where it was addressed the potential of the Pacific Alliance –comprised by Mexico, Chile, Colombia and Peru- to build in a participatory and consensual way an area of deep integration to move progressively towards the free movement of goods, services, resources and people.
In the conference coordinated by the Latin American Centre and the Society of Mexican Students, as well as the Oxford Latin American Society, the Mexican diplomat exchanged points of view with his counterparts from Peru, Claudio de la Puente; Chile, Rolando Drago and Colombia, Nestor Osorio, about the current challenges and achievements of the Alliance which also had been an instrument to strengthen trade relations with Asia-Pacific region.
The four Ambassadors agreed that the countries which integrate the Pacific Alliance have registered acceptable indicators of employment and economic stability in a complex international level, representing altogether the 8th economy and the 7th export power.
Likewise, Gomez-Pickering explained that Mexico expects that the Pacific Alliance will boost the national economy's dynamism, bringing new trade and investment opportunities and will contribute to promote academic and innovation projects within the framework of cooperation and student mobility in a region that has a population of 209 million, mostly young people, representing a major source of productive human capital.
He welcomed the entry of the United Kingdom as an observer in 2013, a country with which Mexico has vigorously increased trade, but that it will also benefit of other mechanisms such as the Trans Pacific Partnership (TPP) & APEC.
It is noteworthy to mention that the four country members of the Pacific Alliance contribute with 36% of the Latin American GDP, account for 50% of the trade of the region and last year received more than USD $70 billion in foreign investment, which means, 41% of total investment in the region.
Besides the four nations set the bar on the elimination of labour, financial and trade barriers in the area, making up to 92% of tariffs and setting as a goal in the mid-term to reach a 100% free-tariff region.
---oo000oo---